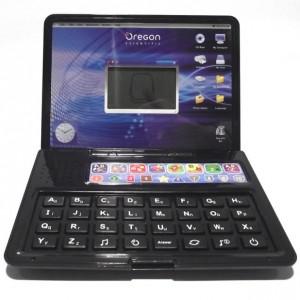 Laptops and computers have become a worldwide craze for all ages.I was so pleased to be asked to review the Oregon Accelerator Junior Laptop.
I must say my little boy hasn't put it down since it arrived and is enjoying learning new things everyday.
The ultra thin design this wonderful learning laptop offers 8 topics of learning including vocabulary, maths, and memory With an LCD screen and ABC keyboard especially for ages 3+ this is sure to keep your children entertained.
This laptop will help your child with:
Language Development: Teaches the Alphabet and Vocabulary
Grow Cognitive Thinking Skills: Raises awareness of the children's surroundings
Build up Fine Motor Skill: Visual tracking trains up hand-eye coordination
Features
Colour: Black

8 Learning activities

Slim & light design

Easy to carry

Teaches: Letters, Numbers, Colours, Shape, Memory, Music appreciation

ABC keyboard

Uses 2 x AA batteries (included)
They are currently available at the bargin price of £9.99 and £2.74 post and package.So don't miss out on this fantastic price.
They are also offering a special discount to 'The Real Supermum' readers.For 30% enter discount code: GHTQON578D (At the checkout)
Pop on over to Egyptian Trader – http://www.egyptiantrader.co.uk/oregon-accelerator-junior-laptop-computer-kids-childrens-educational-games-toy-776-p.asp Today to order yours.
Facebook http://www.facebook.com/EgyptianTrader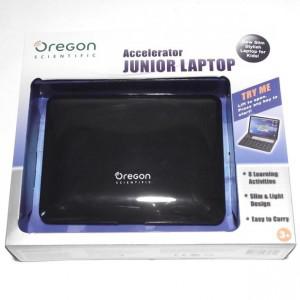 NOTE on the condition of this item: This item is new and unused in retail packaging but has very light cosmetic scuffs to the lid of the laptop caused by inadequate packaging during transport. The scuffs are very light and cannot be felt if touched buy can be seen at certain angles, they in no way affect the operation of the product, most kids wont even notice them. The selling price reflects the condition of this item and returns will not be accepted for this specific issue. If you are not sure you can purchase a laptop in perfect condition from their shop for £14.25.