I am often stymied by how to turn the greens I buy at the grocery store into something that feels like a main dish, and not just a side that leaves me wondering where the lamb chop went.  Even though I'm not a tremendous meat eater, I find myself craving the idea of it–some central organizing principle for the meal.  It's so easy to just build a dinner around a savory slab of protein.
But it's also equally easy to toss just about anything with pasta and call it a meal as well.  As long it's a sufficiently interesting combination, you're good to go.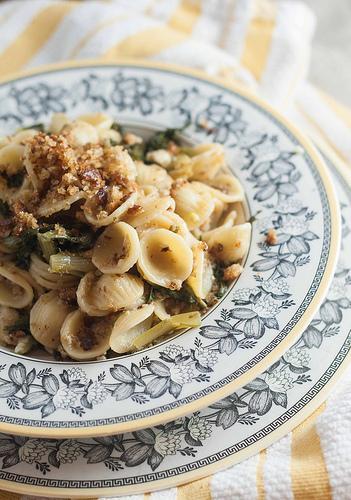 Here, I use escarole, which is wilted and then sauteed with anchovies for savoriness and hot pepper for extra bit.  If you're unfamiliar with escarole, you might recongize it under its alias of chicory or endive.  It's tender enough to eat fresh in a salad but sturdy enough to withstand the heat of the pan.  Italians, it turns out, are big fans of bitter greens like this (think broccoli rabe or radicchio).  Of the five tastes–sweet, sour, salty, bitter, and umami–it seems that bitter is so often shunned (at least in the U.S.), so I've been fascinated to learn how important a component it is in many world cuisines.  Of course it's an acquired taste, (do I sound like a mother or what?) but take heart:  wilting the escarole draws out much of the bitterness.  If you're still unconvinced, just try kale, but give it a try–I've come to love these flavors, and it keeps my tastebuds on their toes!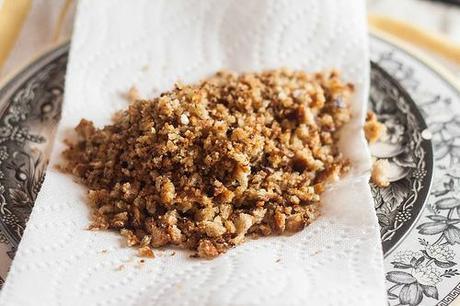 Whatever green you pick is tossed with crunchy fried bread crumbs and of course finished with some nice parmesan cheese. (There's even recipes that would omit the greens entirely and just serve fried bread crumbs over pasta–ultimate humble fare). And orecchiette are always fun, for no other reason than that they mean "little ears"–though they catch those crumbs and cheese really well too.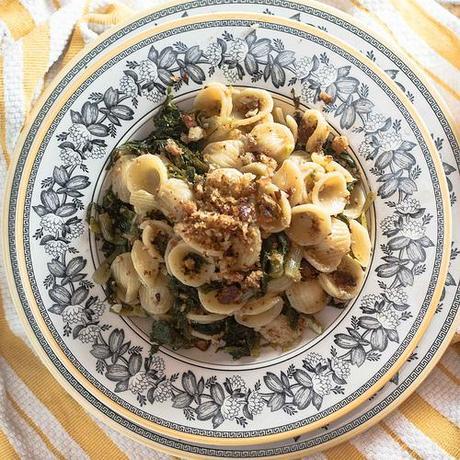 A lot of bold flavors, a satisfying meal, and an easy way to eat those leafy greens everyone is always on us about.  And more good news:  this recipe is ready in just over the time it takes to boil the pasta.  "Just over" because you dip the greens into your boiling vat of water for a few minutes before lifting them out and sliding the pasta in.  But since you re-use the water, it's an extra step that's hardly onerous.
Enjoy!
Orecchiette with Escarole and Bread Crumbs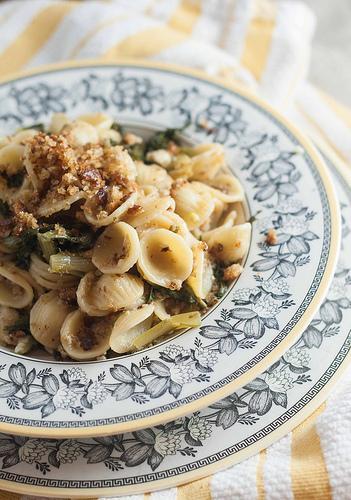 Print
Author:
Sara, adapted from Bon Appetit
Ingredients
1 pound escarole (or kale or other green) about 2 large bunches), stems trimmed
Kosher salt
5 tablespoons olive oil, divided, plus more for drizzling
1 cup coarse fresh breadcrumbs
3 garlic cloves, chopped, divided
Freshly ground black pepper
2 tablespoons (1/4 stick) unsalted butter
4 anchovy fillets packed in oil, drained
¼ teaspoon crushed red pepper flakes
1 pound orecchiette (little ear-shaped pasta)
¼ cup finely grated Parmesan or Grana Padano
Instructions
Working in batches if necessary, cook the escarole or other green in a large pot of boiling salted water until just tender, about 4 minutes. Using tongs or a skimmer (don't dump the water out!) transfer to a colander over the sink. Toss frequently to accelerate cooling, and when cool enough to handle, squeeze out the excess water. Chop the leaves stems and set aside.
Heat 3 tablespoons oil in a small skillet over medium heat. Add breadcrumbs and cook, stirring often, until beginning to brown, about 4 minutes. Add one-third of chopped garlic and cook, stirring often, until breadcrumbs are golden, about 3 minutes. Season with salt and pepper and transfer to a paper towel-lined plate; let cool.
Heat the butter and remaining 2 tablespoons oil in a large heavy pot over medium-low heat. Add the anchovies, red pepper flakes, and remaining two-thirds of chopped garlic; cook, mashing anchovies with a spoon, until a paste forms, about 2 minutes. Add reserved kale and ½ cup water. Cook, stirring often, until escarole is warmed through, about 4 minutes. Season with salt and pepper.
Meanwhile, return the water you used to cook the escarole back to a boil. Add the pasta and cook, stirring occasionally, until al dente. Drain, but reserve 1 cup of the pasta cooking liquid.
Add pasta and ½ cup pasta cooking liquid to escarole mixture and stir until well mixed. Increase heat to medium and continue stirring, adding more cooking liquid as needed, until the liquid is absorbed. (The starch in the cooking water helps bind the "sauce" to the pasta). Mix in the cheese and ½ cup breadcrumbs; toss to combine. Portion the pasta and drizzle additional oil over each serving. Sprinkle with the remaining bread crumbs.
3.2.1682