Guess what! You can order your holiday cards through me this year!
These cards are 4.25″ x 5.5″, on thick cardstock with a matte finish. They look beautiful. If you purchased art in my spring sale, you received something similar. White envelopes are included.
You can get the inside blank or with a message to suit your needs…Merry Christmas, Blessed Solstice, Happy Hanukah, Happy New Year…a more general Happy Holidays, or any customized message that you wish.
You can choose from the six designs shown here.
(Click to view larger:)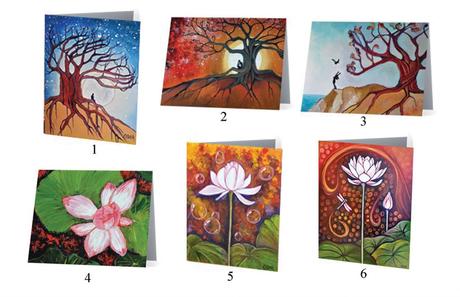 Art By Cedar greeting cards
Email your order to [email protected]–specify the quantity you want of each design # above, and what brief message you would like printed on the inside, if any.
Important:
Please order your cards in multiples of 10.
There is a 40-card minimum per design.
Price is $1.50/card.
To ensure I can get them printed and shipped to you before December, please get your orders to me by November 1st.