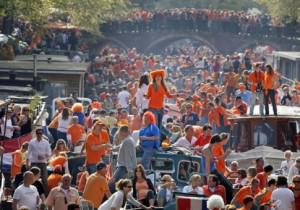 Of all the European countries with a Queen, arguably none loves their monarch as much as the Dutch do.
Celebrating the Queen's birthday is a nationwide holiday in the Netherlands called Queen's Day. And in true Dutch spirit, the locals go all out with festivities – all while fully decked out in the national colour, orange!
On 30 April, parties, live music, fairs and open air flee markets dominate every city in the country. In fact, the day is best known for the vrijmarkts, or free markets that pop up on nearly every sidewalk with people selling everything from the contents of their attic to snacks and drinks.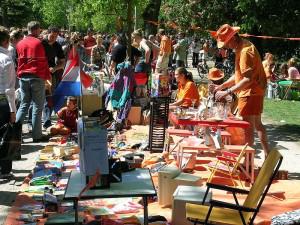 But the best place to be for the holiday is the capital itself. Amsterdam is unrivaled in its Queen's Day offerings. With its already lively atmosphere, and the accessible canal belt, the excitement is found on both land and water.
Boats typically fill canal waterways and the streets are a sea of orange-clad revelers, but there are also a number of special parties planned at clubs and bars that are perfect for anyone looking for a break from the busy streets.
As for the Queen, she will also be out and about as well. Each year she travels to a different Dutch city to greet their locals and partake in birthday festivities.
But, don't be fooled by this spectacular holiday. Only the Dutch know the real secret – it's not actually Queen Beatrix's birthday!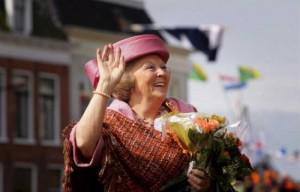 In fact, Queen's Day, called Koninginnedag in Dutch, is a celebration dating back to 1885 in honour of Queen Wilhelmina and was originally held on 31 August. After her daughter, Juliana took the throne, the day was shifted to her birthday, 30 April.
When today's Queen Beatrix came to power, her January birthday just didn't have the right weather conditions for the holiday, which had come to be known as a sun-filled celebration.
She kindly kept the official birthday party in April, and the country – and the thousands who flock here each year for the day – are grateful. After all, the holiday is more than just a fest for a Queen. It's a celebration of togetherness!