How Onboard Intelligence Can Help You Optimize Fleet Performance
Whether your fleet consists of three trucks or 300, managing multiple vehicles and drivers is far from easy. Keeping your fleet on the road, serving customers and making money means ensuring that trucks are well maintained, in compliance with increasingly complex regulatory compliance requirements, and driven by safe, qualified drivers. With fuel costs trending upward, keeping costs down and customer service up can be a tough balancing act. So what's a savvy fleet manager to do?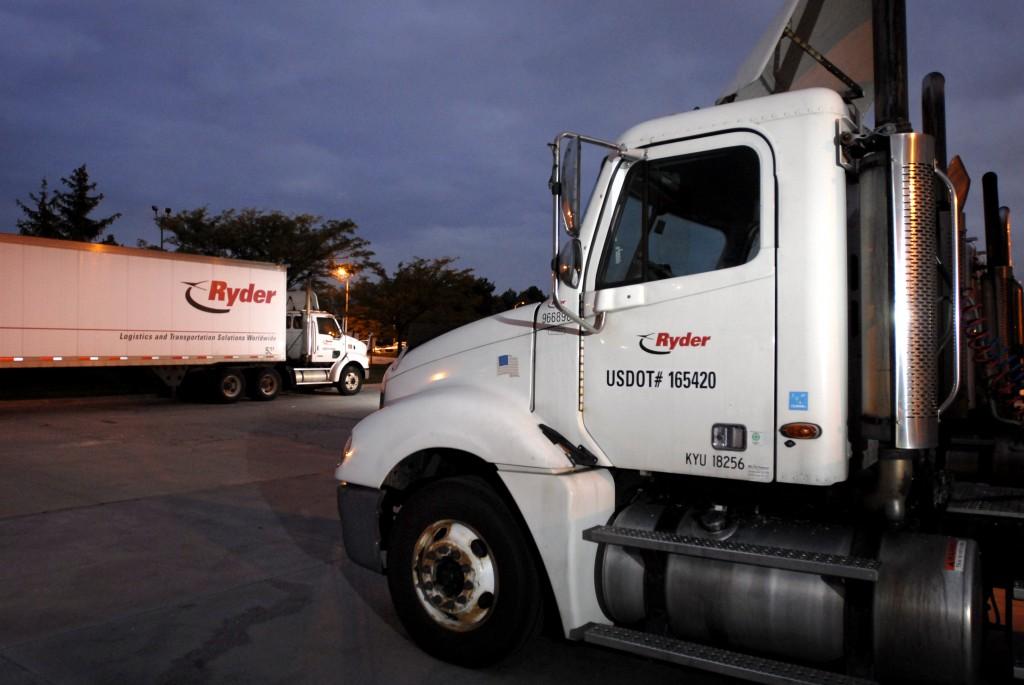 In two words – get connected. Not too long ago, when a truck left the loading dock, it was on its own, isolated and out of touch until it reached its destination. Now, breathtaking advances in telematics and onboard navigation technology have changed the game, enabling you to make the most of your drivers and your vehicles.
Enter the age of the connected truck.
What's a connected truck?
It's equipped with onboard telematics technology that lets you monitor critical activities like driver behavior, maintenance, navigation and fuel usage. Capabilities run the gamut from on-board recording of events and vehicle route history to tracking of multiple vehicles and traffic conditions, with simplified collection of driver/vehicle performance logs.
As a fleet manager, on-board technology gives you real-time performance data you can use to nudge your drivers to drive safer and more efficiently while you maximize fleet efficiencies, safety, customer service, profitability and fuel performance. So how does telematics work and what can it do for you? Let's take a look.
What is telematics and how does it work?
In a nutshell, telematics combines an onboard computer, wireless communications and GPS to provide a bird's eye view of your vehicles and drivers while they're on the road. Telematics has come a long way since it was first introduced. Once accessible only to mega-fleets, the technology is now within reach of any fleet manager interested in improving safety, staying on top of maintenance issues, or providing feedback to drivers on their performance.
There are plenty of reasons to implement telematics into your fleet.
Here are 10 that can help you make the most of your drivers and your trucks.
With on-board technology, you can …
Get real-time information: on a truck's location, fuel usage, idle time, DOT log requirements and other analytics so that you can optimize and direct your fleet.
Gain visibility into driver behaviors: to identify patterns linked to safety risks and poor CSA scores. This is critical as the growing driver shortage makes it difficult to find and keep good drivers. According to The Large Truck Crash Causation Study, 23% of crashes occur when drivers drive too fast for conditions. Telematics can help you track and report unsafe behaviors like speeding and hard braking and provide drivers with feedback about how safely or unsafely they're driving and provide training as necessary.
Track and manage fuel consumption and costs: use telematics to manage drivers' routes and driving habits and provide feedback to them on fuel economy issues like idling, speeding and shifting.
Aggregate data from across your fleet: to balance loads, boost driver productivity, automate documentation and recordkeeping and even fine-tune trade cycles. By integrating data from trucks into your fleet management system, you can free up human capital previously tied up in entering and analyzing data to focus on key problems.
Boost delivery efficiency: use a connected navigation system to keep drivers on route, ease them through traffic congestion or help them reach destinations faster. You can route dispatches to drivers with turn-by-turn directions, getting real-time traffic information from other trucks in the network to modify routes for the shortest travel time.
Check inventories for parts: after remotely diagnosing vehicle trouble codes.
Automate mandated driver pre- and post-trip vehicle inspections: sending data back to the shop in real time.
Improve preventive maintenance scheduling and execution: monitor truck engines and other systems using sensors to collect maintenance-relevant data.
Increase driver productivity: combine location information and remote diagnostics to ensure that drivers spend less time waiting for trucks to be repaired and more time on the road serving customers and making money.
Simplify compliance, Interstate Fuel Tax (IFT) and Hours of Service reporting: improve the accuracy of reports with digital trip logs that free drivers to focus on what they do best – keep cargo moving. Telematics also simplifies IFT reporting by automatically tracking, recording and submitting mileage information by state or province.
Are you using onboard telematics technology to track driver and vehicle performance, improve efficiency and control fuel costs? Are you interested in tapping into the benefits of "the connected truck" without having to invest in the technology yourself? To learn how technology can help you optimize overall fleet performance, click the button below to download our White Paper – "The Connected Truck – Fleet Efficiencies through Telematics."