I'm not given to making New Year resolutions as you know, when each and every day is already an opportunity to be and do better than the ones before. However, I'm conscious of the fact that some of what I've written in the last month or so has been a tad downbeat - albeit a true reflection of the state of the world and the time of the season, I'm sure you'll agree - and consequently I'm making a deliberate attempt to accentuate the positive for a while as we embrace not only a new year but a new decade. (Wish me luck!)
The week's given blog theme is
optimism
 so we should be off to a flier...
I was discussing religious belief with a couple of friends at a party the other night. One of them is a devout Christian, the other like me would class herself as spiritual but not religious. I explained my background - father a Methodist missionary and then parish priest - and the fact I got an overload of religion at an early age, so that when I was in a position to choose I opted to step away from anything organised or denominational.
What I do concede quite readily is that historically religious belief has answered to that very real need we all have to feel optimistic about existence - whether by adopting a faith and a moral code that leads us to be kinder, more caring human beings, whether it's as an antidote to the fear that death is the end of us, whether it's a compensation for 'childhood's end' syndrome, the shock of realising that our parents are not omnipotent and cannot always protect us from the trials and tribulations of life.
It was stated by a very famous French philosopher that if God hadn't existed, it would have been necessary for mankind to invent him/her. Well, God doesn't exist and we have created him/her/them - be they Christian, Jewish, Muslim, Hindu, Aztec, Sikh, Sun God, Moon God, and on and on; and the fact that there is this plethora of deities ought to be proof enough of the simple anthropological origin of the necessary fiction.
Religious 'myth' enshrines social ethics and symbolises human aspiration. Take as a case in point the annual Hindu festival of Dussehra (or Vijayadashami), essentially a celebration of the victory of Good over Evil, of Vishnu becoming incarnate as Rama, killing and ending the cruel reign of Ravana and establishing Dharma on Earth.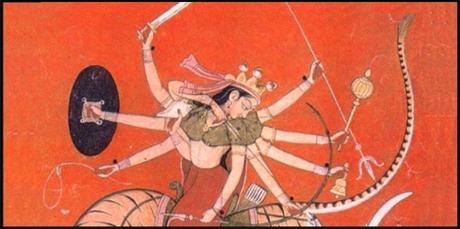 Rama, like a Swiss army knife incarnate, multiple-handedly ensuring the triumph of Good over Evil
My new year/new decade optimism springs from a hope that we, citizens of planet Earth, will prove to have enough of a collective conscience that we
will
 step up to our responsibilities for ensuring the sustained survival not just our own species but of the entire fragile eco-system which is the extraordinary world we live in. Please let it be so - optimism rising!
As an extended appendix, typically in one of my around-year-end blogs I regale you with my critical best-ofs of the departed twelve months; take these plaudits as recommendations or ignore them as you see fit. Here goes for 2019...
In the wild domain of rock 'n' et cetera, what thrilled the house on the strand most was
'Further'
,  the latest waxing from Richard Hawley, with efforts from the Galileo 7 (
'There Is Only Now'
) and newbie Emily Capell ('
Combat Frock'
) making it a decent contest... though actually the golden biro for best lyric of the year goes to Fontaines D.C. for the infectious
'Big'
 - "Dublin in the rain is mine/ A pregnant city with a catholic mind" and so forth. (Huge fans of the Beat poets are the Fontaines.)
In the cinematic stakes,
'Green Book'
  and
'The Goldfinch'
  shared the honours, though of course I enjoyed
'Yesterday'
,  that foolishness based on the premise that 'some global quirk wiped the Beatles from the collective consciousness of everybody except one young musician who then pretended to have written all these great songs'.
As far as new fiction goes, I was most taken with Sally Rooney's
'Normal People'
,  though credit must go to the brilliant John le Carre who, at 87, has still got what it takes as his 25th novel
'Agent Running In The Field'
  amply demonstrates. As for my personal favorite Saturday Blog of the year, since a few of you have asked, I think I would have to nominate
'Love Among The Scatter Cushions'
.
But that was then and this is now, optimistic January. I've begun two poems this week: an ode to optimism,
The Bright Side
, and a lament,
All My Favourite Poets Are Dead
. Neither of them is close to being ready, not even half-way so; and the latter wouldn't fit the theme anyway.
Therefore, prompted by my admiration for one of those dead poets, the recently departed Tony Hoagland (1953-2018), I offer for your enjoyment the following from his considerable oeuvre:
Self-Improvement
Just before she flew off like a swan
to her wealthy parents' summer home,
Bruce's college girlfriend asked him
to improve his expertise at oral sex,
an offered his some technical advice:
Use nothing but his tongue tip
to flick the light switch in his room
on and off a hundred times a day
until he grew fluent at the nuances
of force and latitude.
Imagine him at practice every evening,
more inspired than he ever was at algebra,
beads of sweat sprouting on his brow,
thinking, thirty-seven, thirty-eight,
seeing, in the tunnel vision of his mind's eye,
the quadratic equation of her climax
yield to the logic
of his simple math.
Maybe he unscrewed
the bulb from his apartment ceiling
so that passers-by would not believe
a giant firefly was pulsing
its electric abdomen in 13 B.
Maybe, as he stood
two inches from the wall,
in darkness, fogging the old plaster
with his breath, he visualized the future
as a mansion standing on the shore
that he was rowing to
with his tongue's exhausted oar.
Of course, the girlfriend dumped him:
met someone, après-ski, who,
using nothing but his nose
could identify the vintage of a Cabernet.
Sometimes we are asked
to get good at something we have
no talent for,
or we excel at something we will never
have the opportunity to prove.
Often we ask ourselves
to make absolute sense
out of what just happen,
and in this way, what we are practising
is suffering,
which everybody practises,
but strangely few of us
grow graceful in.
The climaxes of suffering are complex,
costly, beautiful, but secret.
Bruce never played the light switch again.
So the avenues we walk down,
full of bodies wearing faces,
are full of hidden talent:
enough to make pianos moan,
sidewalks split,
streetlights deliriously flicker.      
Tony Hoagland
, 1998
Thanks for reading. Keep clean, don't be mean, make a positive difference, S ;-)
Email This
BlogThis!
Share to Twitter
Share to Facebook
Reactions: