Have you heard?  Oprah is coming to Sydney, Australia!  Sydney is about to be Oprahfied, and I am so excited.  And I am so, so on it.   I must get tickets to Oprah at The Sydney Opera House, do you know anyone who can help???  Because if this does not happen, I will be devastated.  I was already not chosen by lottery for Breakfast on the Bridge 2009; and that was a major blow to our mission here at Florida Girl in Sydney.
And now, only 24 hours after hearing the big Oprah-does-Sydney news, the Sydney-Mania begins!
Tonight, TLC's "1000 Places to See Before You Die" is featuring-- guess where??... Sydney, Australia!  And the surreal, reality of the situation, once again, is that I cannot believe we really live here.  This TLC made-for-TV-infomercial-documentary is our reality.  Not to mention that it's very entertaining watching two Americans star on a show about Sydney.
Within driving distance from Sydney you can see cliffs, beaches, mountains, sand dunes, and wine country... it's incredible.  And I can take photos of my kids under the Sydney Harbour Bridge any time I want, does it get much better than that?  Oh yeah it does,  Oprah's coming!!!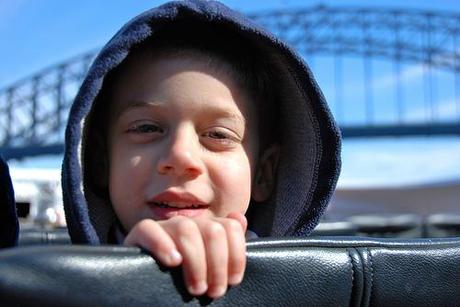 Quote of the week:
(Said by my friend's son, then relayed to me in a text message with commentary)
"They had the American accent again."-- as if it's the flu.  
That's seriously hilarious, I love it.