Do you live with a man who's an adventurous dresser? Someone who's comfortable in his own skin and doesn't mind being the center of attention? Then it's time to take him shopping at Opposuits! They specialize in suits that are about as far from boring business suits as it gets! Check out just a small sample below of some of their offerings for men: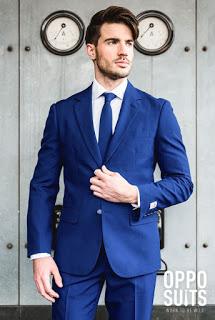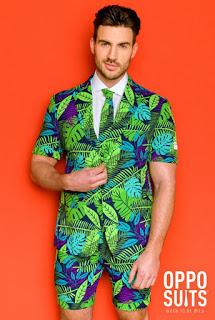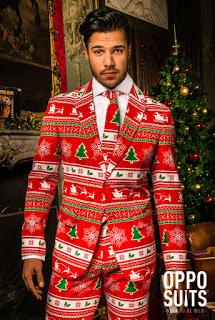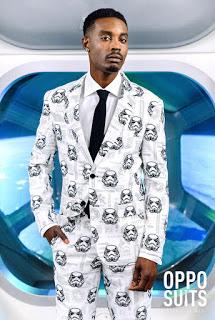 Now, ladies, if you love these suits, never fear: Opposuits has some great patterns for you, too! Check out these fantastic options (and there are many more)!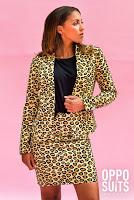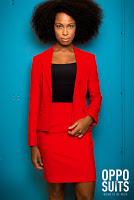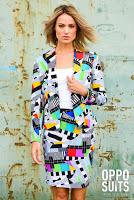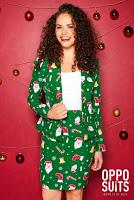 Opposuits are even available for younger and teen boys. I love the styles below.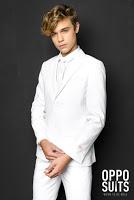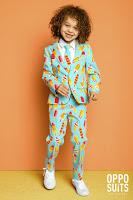 One of my four sons is currently in college, and he is the most adventurous of my boys when it comes to his wardrobe. He was very excited to review the Navy Royale suit shown at top. It even came with the tie! And you can purchase a dress shirt in a bold color to complete the look of the outfit or tone it down a bit with a less flashy shirt of your own.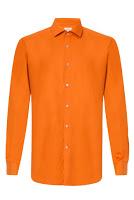 Here's what my son had to say about his Opposuit:
While I was too afraid to spring for any of Opposuits' more eccentric designs, I was surprisingly pleased with the solid color, navy suit I received from them. It came with the jacket, pants, and tie all packaged quite neatly, protecting it from getting wrinkled or stained in the journey. One might think when looking at their site that the suits are meant to be worn once for gimmicky occasions or disposable in some way, but that couldn't be further from the truth. The suits are made from durable material and don't wrinkle easily. I've already worn it out on multiple occasions and have been quite happy with how it has held up. You would be hard-pressed to find a full suit of similar quality for the same price. While I can come up with a couple criticisms, they are extremely minor. The fabric was a little stiffer on its first outing than some suits, but on subsequent occasions it has become quite comfortable. In addition, while they have a full range of sizes on their site, you cannot choose the length of the suit. As someone who wears a 40L, this meant that the sleeves were slightly shorter on me than I would usually purchase. However, most men will not have this issue. Overall, it is obvious that the company takes great care in delivering a quality product for a real bargain of a price. For anyone who wants to add a bit of extra color to their wardrobe, I recommend you try them out.
If you or your guy are getting bored of your humdrum wardrobe, I hope you'll pay a visit to Opposuits.com. As my son mentioned, their prices are very affordable, and they even ship for free in the United States! You'll love the reactions you get when you wear an Opposuit!

Disclosure: We received a complimentary product sample to facilitate this review.