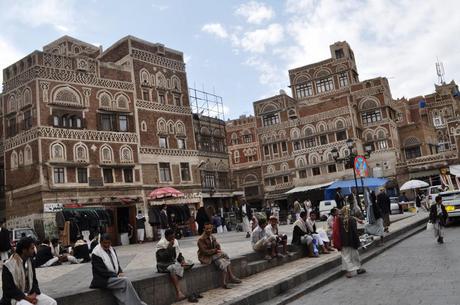 Sana'a street just inside Bab al Yemen, Sana'a (Photo: CIPE)
These days, many can rattle off the statistics on Yemen – half of the population in under the age of 18; more than 50 percent of youth are unemployed; per capita income is a mere $1,200; GDP for a country of 24 million is only twice that of Bahrain, a state of just 800,000; and 54 out of every 100 individuals owns a gun. But few can give context to these figures as can CIPE Regional Director for Africa and the Middle East, and Yemen native, Abdulwahab Alkebsi, interviewed yesterday alongside former Ambassador to Yemen Barbara Bodine on the Kojo Nnamdi Show.
Alkebsi emphasized that while there is great cause for concern in light of changing political currents in Yemen, the country has remarkable potential. As Alkebsi underscored, Al Qaeda's presence in Yemen is a result of the hopelessness of an overwhelmingly young population that is forced to live without political and economic freedoms.
Yemenis need to recover their dignity – through meaningful work and economic empowerment, and the ability to participate in the political process. Recent protests have given Yemenis a seed of hope, but only institutional reforms that address systemic issues such as corruption, arbitrary implementation of the law, unprotected property rights, and a weak education system will create an environment that will allow a possible democratic transition to deliver for citizens.
CIPE has a robust program in Yemen, as Alkebsi mentions, which seeks to break down obstacles to market-oriented reform. Destructive Beast, a CIPE-produced documentary film, not only highlights the destructive effect of corruption on the Yemeni economy, but offers constructive solutions to jumpstart a debate on policies to combat corruption.
Entrepreneurship, civic education, economic journalism, and corporate governance work have also placed CIPE and its partners at the intersection of local efforts to promote economic and political reform in Yemen.
Though Yemen is often discussed as a failed state, Alkebsi points out just a few of the advantages Yemen has in its back pocket: the Yemeni diaspora has capital to invest in the country and assets such as the Aden port can blossom – should the investment environment improve and security be ensured.
Listen to Alkebsi and Bodine discuss these topics and more – including religious, territorial, and security issues in Yemen as well as the challenges facing a political transition.