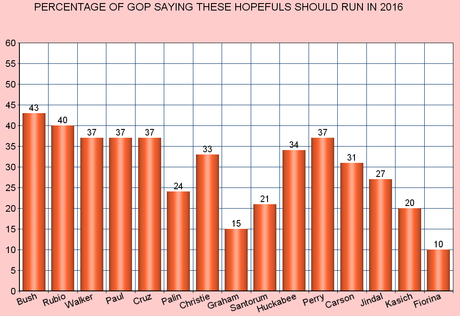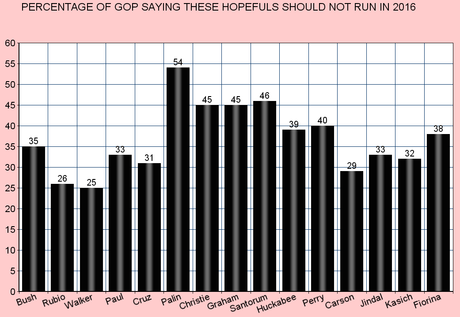 The charts above were made from a YouGov Poll done between January 31st and February 1st of a random national sample of 1,000 Republicans, and has a margin of error of about 4 points. This survey is a bit different than most others. Instead of asking the respondents who they support for the nomination, it asked the respondents to judge each candidate on whether they wanted them to run for president in 2016 or not.
This survey shows not only how much support for running each GOp hopeful has (the red bars in the top chart), but also how much opposition each candidate has (the black bars in the bottom chart). And several candidates have some significant opposition -- with Bush, Paul, Jindal, and Florin being opposed by a third or more of Republicans, and Perry, Santorum, Graham, and Christie being opposed by over 40% of Republicans. But the person with the biggest opposition is Palin, who is opposed by a majority of Republicans.
This doesn't mean none of these candidates could win the nomination -- only that they have some negative feelings among the base to overcome in the next few months.