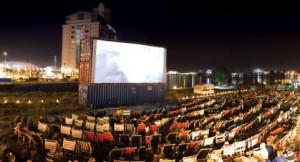 Amsterdam's annual summer open air film festival, Pluk de Nacht, begins again this August running from the 4th to the 13th.
All of the films shown in the festival are projected in the open air over the beautiful harbour of the city – and each showing is free of charge.
The line-up includes unreleased, independent art-house showings, documentaries, animations and shorts. It is a selection known to bring out both film enthusiasts and industry professionals.
But that's not all you get with Pluk de Nacht. The festival brings a full-on atmosphere of creativity to the Stenen Hoofd. Located behind grand Central Station, you can't miss the fields of folding chairs, huge art displays, campfires and food and snack stands.

The party begins early, as film junkies arrive to grab the best seats and check out the art exhibitions and media displays. But by dusk (about 21.30), the huge film screen has everyone's attention.
This year, the stellar line up will feature some-never-before seen Dutch films. But to keep things exciting, and be sure you visit their website for all the latest updates, the programme is always kept a secret until just days before the event.
But it's a tactic that has proven successful for Pluk de Nacht's past seven years of film festivities. The festival was actually founded by a small group of young film professionals, dissatisfied with the commercialisation of the film industry and how wonderful works of cinematic art are overlooked just because they may not be blockbusters.
The event is run by volunteers even today, all of whom are committed to showing you the best in films, art and media projects – for free. Don't miss out!