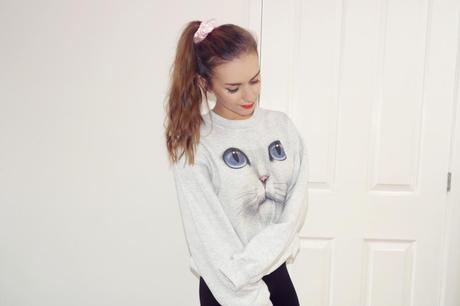 Within blogging there is a kind of pressure to look good and dress, well, fashionable. In myself I love a good ol' dress up; I feel comfortable in the clothes I wear and like to sometimes make a statement with my outfits. However, I'm not ashamed to admit that I love lazy days too. I've always wanted my blog to be honest in that when I share my Outfit of the Days with you, they really are an outfit that I've worn a couple of days previous.
For a comfortable outfit option I will always reach for a huge, cosy jumper and leggings. This will be when I either am in a rush to get to University or when I come in and want to be super slouchy. This Skip 'n' Whistle Cat Jumper* is not only really cool graphically with it's cat face, but has the softest lining ever, making it ideal to snuggle up in. I would have shown you the rest of my outfit, but my pug slippers aren't exactly blog appropriate!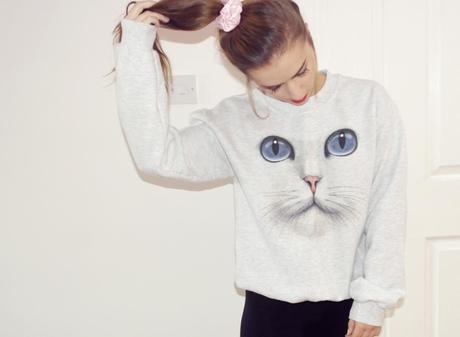 It's official that I'm the worst outfit photographer in the world. I sometimes just get so awkward in front of the camera that my face automatically turns away. I'll learn one day I suppose... Let me know if you liked this outfit and be sure to check out Skip 'n' Whistle as they've got some really cool pieces!


Facebook  - Twitter - Instagram - Bloglovin


*This product was sent to me free of charge & for my consideration. All opinions are honest & completely my own.