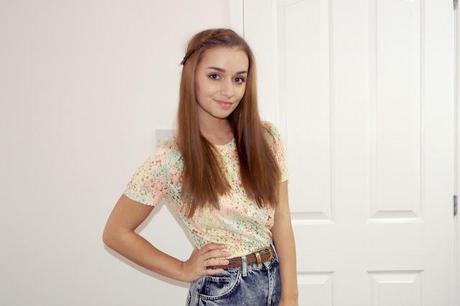 One of my 'New Years Resolutions' this year was to purchase a pair of jeans. That may sound odd to you but until this year I hadn't worn jeans since I was about 14 as I felt I either couldn't find a pair to fit me properly or didn't like any on me. Thank the lord for the Topshop 'Mom' Jeans! Even though they are 'unflatteringly flattering' I feel like I've finally added a staple pair of jeans to my wardrobe.
This Floral Crochet Lace Top* from OASAP is right up my street. Even though all the Autumn trends and colours are creeping in, I had to try get just one more pastel lovin' outfit before I turn to burgundy and black. I really can't believe how quick the weather has changed. I'm in need of a shopping trip to stock up on tartan and warm knits...
It's my 'North East Blogger MeetUp Event' on Sunday - I'm so excited! I've put so much effort in and have about 45 Blogger girlies coming along. I'll be sure to put up a post about it! Anyway, what are your thoughts on this outfit? Are you a jean lover? Looking forward to A/W trends? Let me know in the comments below! Thanks for reading!



Facebook  - Twitter - Instagram - Bloglovin