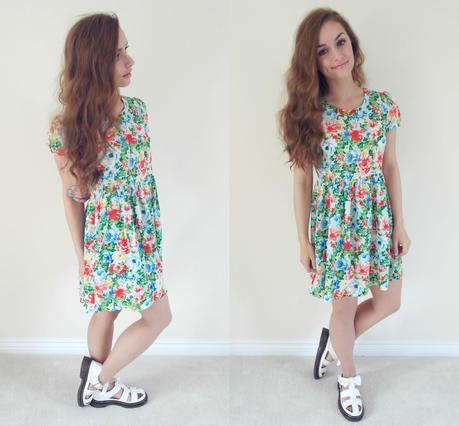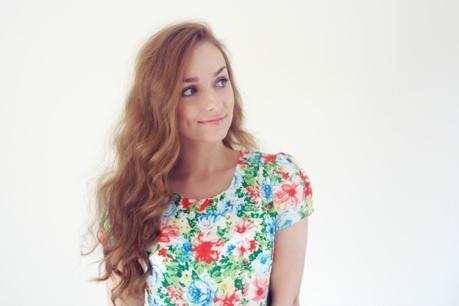 You may think that this dress looks a little bit familiar, and well, yes, that's because it does! It's exactly the same as one of my ultim
ate favorite dresses, just in a different floral pattern. I thought that this Floral Tea Dress wasn't being sold anymore until after a bit of scouring around, I found it here. You can thank me later! I'm hoping that with all my floral dresses that the sun may stick around for more than a couple of days before reverting back to it's normal, dreary and occasionally raining self. We can hope, right?
On my little tootsies are a pair of shoes I've been more than excited to bring back around this year; My Aggy for Dr Marten Bow Sandal dupes are so cute and I got so many compliments on them last year. Ssssh, no-one can even tell they are not even real! They're such good sandals for that effortless cool look and I am in love with any type of white shoes at the moment. 
I hope that you'll join me and bring out your floral dresses so that the sun starts sticking around more often - I love when it's sunny, everyone seems so much happier!

Let me know in the comments where your favorite place to shop for summer dresses are, I'd love to find some new little gem shops to spend my money in. I'd love to know if you like this outfit too! Thanks for reading.

 

Facebook 
 - 
Twitter
 - Instagram - 
Bloglovin
 - 
Youtube
Check out my June Advertiser - Hello Freckles