Mooch didn't mean to, but that's what he did.
At the 2016 Democratic National Convention last night, sporting yet another new wig, he endorsed Americans' Second Amendment right to bear arms when he said this in his speech:
"I also told you about our daughters, how they are the heart of our hearts, the center of our world, and during our time in the White House we have had the joy of watching them grow from bubbly little girls into poised young women.

A journey that started soon after we arrived in Washington when they set off for their first day at their new school. I will never forget that winter morning as I watched our girls, just 7 and 10 years old, pile into those black SUVs with all those men with guns."
Surely, Mooch isn't such a hypocrite to think that while he, husband Barry, and daughters Malia and Sasha are protected by bullet-proof "black SUVS" and "all those" Secret Service "men with guns," ordinary Americans who don't have those privileges should be deprived of guns to protect ourselves? /sarc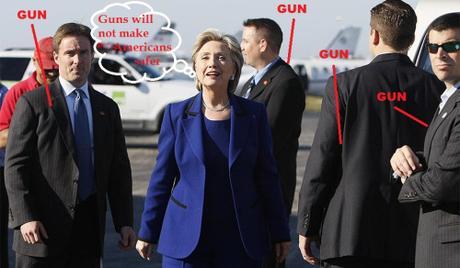 H/t Kelley W.
~Eowyn