Curry…..Indian is the first thing that pops into my head but really it's a rather quintessentially British thing as well. From korma to vindaloo we have long been taken by the smells, spice and taste. For last nights dinner I decided to take some beautiful diced lamb reared two miles from my mums house is Fife just by Auchtertool by the now famous buffalo farmer Steve Mitchell. Having known Steve my whole life so happy to see him doing well, I don't just buy his produce because I know him though, the quality of what he is producing is just superb.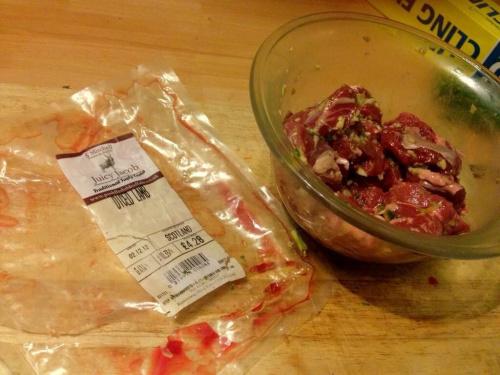 What really strikes you about this Jacobs lamb is the colour, it's a very deep red with plenty of marble on the meat as well. Steph actually saw it and asked me if it was beef. The curry I chose is saag goscht, a delicacy of the Punjab, it's a dish popular during the Baisakhi festival. Baisakhi is the one of the major festivals of Sikhs and celebrated with lot of enthusiasm. The Baishakhi festival falls on the first day of vaishakh month(April-May)according to Nanakshahi or Sikh calendar.
The beauty of this dish is its simplicity, to start form a paste of 3 garlic cloves, half a thumb of ginger, 2 tablespoons of ground coriander and one hot green chilli. I used a mortar for this and it's gets the most out of the oils and blends the flavours better but you could use a blender. Add the mixture to the lamb and leave for as long as possible, at last an hour.
Take 2 medium onions, chop into halves and thinly slice, in a heavy bottomed pan add ghee if you have it if not then butter. Add the onion and fry until brown. Once you have this put in the lamb and brown over a hight heat, when brown put to medium and cover to allow the meat to release water.
Now for the spice, he recipe I used called for cayenne, turmeric and salt, I also added a cardamom pod. Once combined add 5 large tablespoons of natural yogurt one at a time combining it after each spoonful. Add 400g spinach allow to wilt then cover and put to a low heat.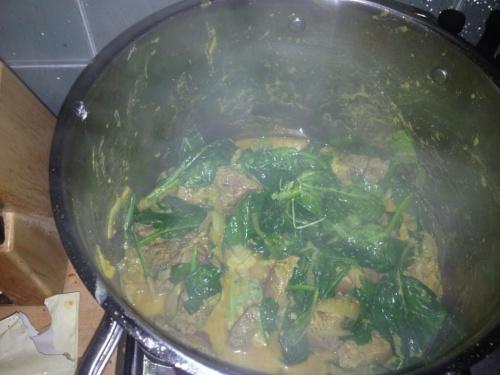 Leave it alone now for one hour stirring maybe twice. What you are left with is a cracking curry with melt in the mouth lamb that will warm you up nicely on a winters day, I served it with rice and garlic naan but this mix would go well with anything, even on a baked potato.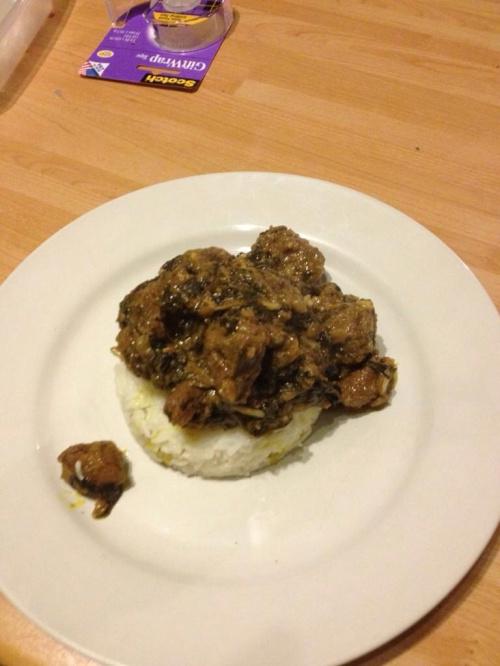 Fair to say it comes highly JD Recommended!