I remember the moment well. I was in Jerusalem on my own. Although in my early twenties, I really didn't know much. The man at the vending cart didn't speak English, but I was hungry. My first experience of falafel would certainly not be my last. After I married a few years later, I introduced my wife to the various Middle Eastern foods I'd tried. Hummus became a personal favorite, especially after I became a vegetarian. There are plenty of things for vegetarians to enjoy, and many cuisines of the world have less meat-heavy options than many restaurants I've experienced in the States. Hummus, to get to my point, can be rather bland. It is generally inoffensive, and people of many dietary and religious restrictions can eat it. The Christian Century ran a blurb recently about a hummus restaurant in Netanya, Israel. This eatery offers a fifty percent discount to Jewish and Arabic customers who sit together. Here is a workable idea for peace.
We all have to eat. Half the trick to world peace is getting people who dislike each other to sit down and do it together. Those of imperialist bent may not realize, or even be able to see, that we have more in common than most agitators think. Human needs are the same, and often, very easily provided. You like hummus? I like hummus! We must not be so different, after all. If instead of weaponizing themselves, radical believers armed themselves with food to share, not nearly so many warplanes would have to take to the air. I admit I'm an idealist. I don't think peace is impossible. We can choose to focus on what divides us, or on what we have in common.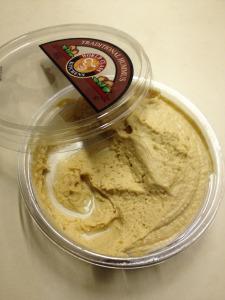 Perhaps if I'd never traveled to Jerusalem I would never have tried hummus. I didn't travel for the food, but travel led me to a kind of serenity. Both falafel and hummus are made primarily of chickpeas, a versatile vegetable that has a verisimilitude of peace. If we could learn to eat together we would find it harder to hate each other after that. Sharing our mutual needs sometimes, as the restaurant owner in Netanya understands, requires a financial incentive. Although it may be lucre that lures those who are different to the same table, it is the peace itself that, I believe, will keep them coming back.