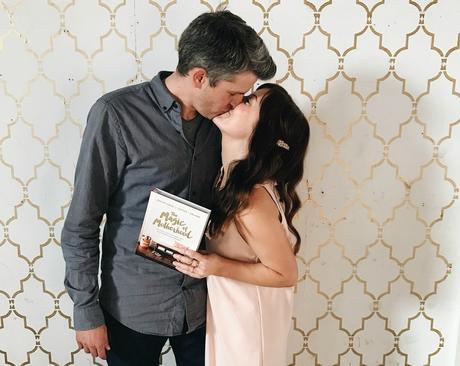 For Brett
We were up till midnight last night. Well, I was up till midnight. It was 12:07 when I plugged in my phone and I'm pretty sure I disappeared into a Benadryl-induced coma shortly after that.
You were still working.
Propped up in bed, headphones in your ears, you were editing "um's" out of our podcast a mere four hours before it would go live. You messed around with the pre-ad music for a while before finally whispering, "I think it sounds pretty good."
I caught you smirking a few times, probably around the mark where us girls were discussing bras and monthly cycles. You joked that you know too much about the writers, and I laughed because it's true.
Everyone is excited the podcast is back today. They have no idea you put in five whole hours on that episode last night, or that you spent an entire Monday evening making our voices sound much more polished than they really are.
Almost everything you do for this cause, for this tiny dream of mine, is done in secret. I know how much you love to be anonymous, but there is a time to be incognito and a time to be seen, and today is the latter for you.
Today I want to tell people how much you do behind the scenes.
I want them to know that when our website is acting up, you always know how to fix it. I want them to know that all I have to do is draw a picture on a napkin and you know how to magically translate my chicken scratch into code.
I want people to know that in the midst of working on The Year of Creativity, I hit a button called "reset default" and accidentally broke our entire website with a single click. I undid hours and hours of work you had done on our Squarespace template in exactly one second. I want to tell people how in that moment, you did not panic in the slightest, but instead, you grabbed a Dr. Pepper from the fridge, rolled up your sleeves, and rebuilt our entire website from memory in one hour.  
I want to tell people that every time I say, "I have an idea," you say, "That's a great idea."
I want to tell people how you take the kids to the park whenever I need to write, and that you held down the fort on five separate weekends last year while I escaped to a B&B to work on the book. I want to tell people how much room and space you've given me to pursue this passion, even when it hasn't made us any money. I want to tell people how much you don't care about the money, and how because this is my passion, it's become your passion, too.
I want to tell people that my dreams are your dreams, and the minute something is important to me, it becomes important to you.
I was all of 20 years old when you slipped a diamond on my finger, and I couldn't have possibly known how much I would need this quality in you to do anything I have accomplished in the almost decade we've been married.
I want to tell people that you brought our book into your office and proudly showed your coworkers. I want to tell people about that one time we were at Bandera for dinner and you told the waitress all about Coffee + Crumbs. She mentioned she had young kids and the words came flying out of your mouth before I even had a chance to blush. I want people to know that sunbeams practically shine from your face when you talk about me, and when you talk about my work.
I want people to know that chasing a dream is not easy or effortless, for the person chasing the dream or their spouse. I want people to know that the book was stressful on our marriage and that one night we screamed at each other in the middle of our bedroom. (I also want them to know we went to therapy and worked it out, and apologized and forgave one another like we always do.) I want people to know that sometimes sacrifice leads to resentment and that our marriage is not immune from this combination. 
And yet: for every time this work has been a stressor on our marriage, it has been a gift and blessing 100 times over. How many times have we laughed and celebrated and praised God and pinched ourselves because who ever thought a simple blog could turn into all of this?
I want people to know that as soon as the book deal was real, I knew I would write one whole story for you, for us. I want people to know that that essay was the easiest one to write, the one about us.
I want people to know that this blog, this podcast, this book, this dream, would not exist without you. Behind the scenes, you have picked me up off the floor more times than I count. You are the constant force of confidence breathing life into me when I am drowning in insecurity. You've never doubted me. You've believed in this mission from the very first day. You've been the backbone and my greatest support system from the moment I first uttered the words, "I think I want to start a collaborative blog about motherhood."
None of this would be possible without you. 
And today I want to publicly thank you — on behalf of myself, on behalf of the other writers, and on behalf of any person who has ever benefitted from the work of Coffee + Crumbs. You play a role in this work, and it's not a small one.
Thank you for taking my dream and making it your own.
Truly, it's the best gift you've ever given me.