​When thinking of returning to my blog, I realised that some things needed to change and I really wanted to restructure. I set out three main priorities - to take the pressure off of blogging, making it my hobby first and foremost. Secondly was to make my blog a reflection of my life and lastly, probably most importantly, was to practice more of what I preach. I'm an advocate for spreading body positivity and realised I was preaching a lot, without actually doing it myself. Whilst it's not easy for me to share anything to do with my body, I'm dipping my toe in the pond by starting out with an outfit post.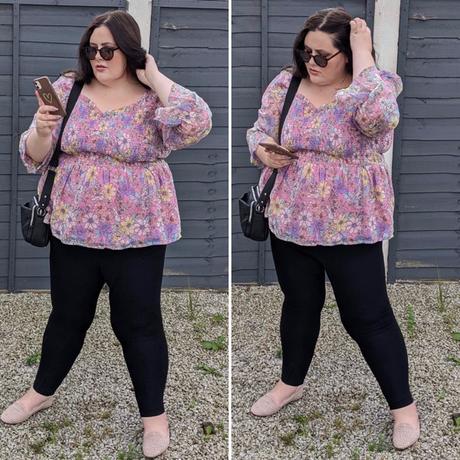 Im always trying to revamp pieces so that I can wear them for different occasions, without feeling the need to buy something new (the temptation is real). I bought this top from Fashion World. (It's on sale just now for £10.50!!) has a ruching at the top which for me is ideal because it has some breathing space. The sleeves slightly balloon before gathering at the 3/4 length mark to then reveal floaty cuffs. 
For daytime, I like to pair this with a pair of flat shoes (primark and in a wide fit), sunglasses and shoulder bag (these are also primark).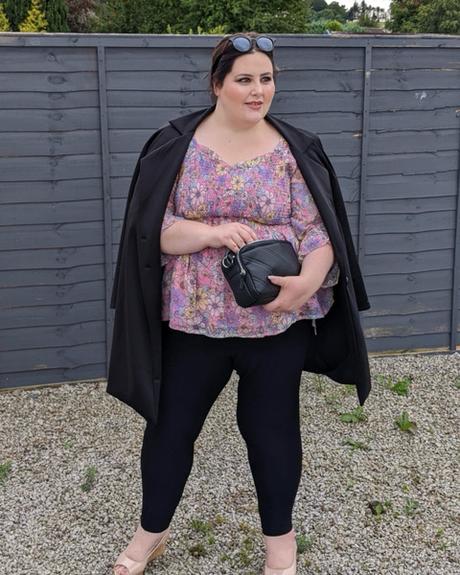 For evening, I smarten my hair up a little, add some jewellery, throw a black jacket over my shoulders (this is actually a long blazer from Boohoo Curve), and put a pair of wedges on (these are from New Look circa 2019!) and I just tucked the shoulder strap inside the bag from earlier to make it look like a clutch bag. 
I'm so hesitant to post an outfit post considering how much hate I have received in the past on social media but I'm braving it! I want my son to grow up in a world where he sees women of all shapes and sizes as beautiful. I can't preach about it for others without doing it myself right? 
Until next time!
Holly xx