I can play this game all day! I have about 50 more ideas on how to paint this little metal cachepot, but for now I'll show you three. I found my pots at a local floral supply shop last summer, but I've seen these ingarden centers too.
There's a style for everyone here-  traditional chinoiserie, clean and simple modern lines and the eclectic/funky "evil eye".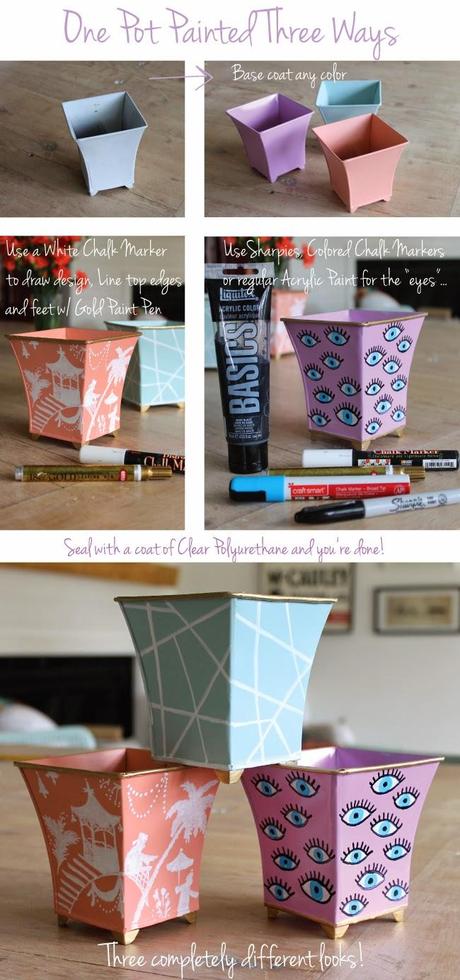 Here are some tips...
-don't try this after drinking 2 cups of coffee- shaky hands, disaster! -If using spray paint let your base coat color dry completely before doing your top pattern, otherwise the Sharpies and paint pens will get gooey/smudgy.  Learned this the hard way.   Use acrylics to avoid the wait. -I used a white chalk marker (this one) because it was very smooth and fluid for drawing the chinoiserie scene.  It also will wash off with a wet rag if you make mistakes, so be sure to seal it with and polyurethane when you're finished. -Sharpies work great for fine detail, just be sure to use an acrylic polyurethane on top, since some oil-based ones will make Sharpies bleed. -Krylon Gold Paint pen does it again!  Easy peasy for lining the rims and coloring in the feet. -I used a ruler to draw in the lines on my mint green pot, and then free hand traced to beef them up a bit. -For the eyes, draw in the whites first with a chalk marker or acrylic paint.  Add colored irises with paint, and then line, lash and dot with a black Sharpie.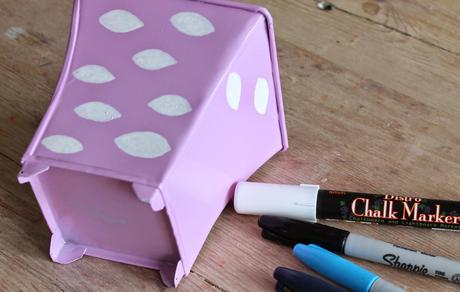 The change up is fast and easy to do, and they'd make great little gifts. What's your favorite?