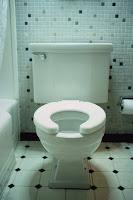 The Toilet:
Where we've spent
most of our time
for the past week.
Ok, let's talk bugs. Not the kind with legs; the kind that knock you off your feet for days... or your kids off their feet (Warning: If you're squeamish, this is not the post for you).
I'm guessing we brought something home with us from a fun farm we visited last week. It also had an indoor play area that the kids loved and those places are teeming with germs whatever the season. Two or three days later, The Boy woke around 3:30am complaining of a tummy ache. He and I never really made it back to sleep that morning and around 8am he tossed his cookies all over the kitchen floor. He seemed fine after that, but on Sunday he spent the morning literally flushing out his system in the other direction.
Next, it was Nature Girl's turn. Tuesday night she complained of a stomach ache shortly after dinner, skipped dessert and returned what she had eaten to her bed sheets around midnight. I had left the designated "barf bucket" by her side, but she's never been a tidy one when it comes to getting sick.
Feeling rather sick myself, I spent the next hour cleaning up her room, washing out the carpet stains and getting her sheets and duvet cover into the washing machine.
The next morning, she seemed as good as new. I, however, was feeling wretched. So bad, in fact, that my husband came home early from work to take care of the kids for me. Two cups of chamomile tea finally helped things move along and I managed to eat a bit for the first time in 24-hours.
Between stomach pains and my husband's snoring, I hardly slept, so he stayed and worked from home yesterday and I stayed in bed until 11am. Being a mom, however, there was laundry to do. It takes longer without a dryer, so I needed to get on it.
By dinner time, I was feeling mostly recovered and it seemed we were finally free of this persistent, reoccurring bug. Snoring once again drove me to share Nature Girl's double bed in the middle of the night. That was fortunate, in fact, because around 6am strange, telltale noises pulled me from my dreams. I had left the bucket in her room (I always leave them near a sick kid for at least 3 days - see my guide to vomit), so I grabbed it just as she sat up and said, "I think I'm going to throw up!"
Thanks to my fast-as-lightening-mother-reflexes, this time the sheets stayed clean. The poor girl went on to try to rid her body of the bug in the other direction for the next two hours and counting...
Time to disinfect the house for the third time this week and pray to the heavens that Sweet Rose and Papa stay healthy.