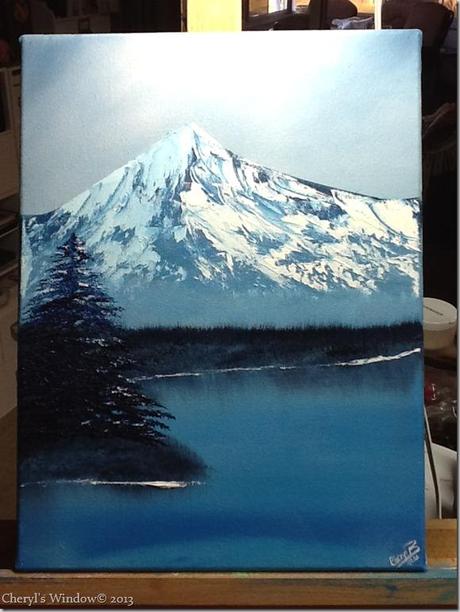 I told you earlier that I would share some of my personal highlights from CHA.  I think this was one of my favorite personal moments.  It was just me having fun and painting.  Martin/F Weber is a CHA Vendor.  They were back again this year and had a lovely and patient teacher, Nancy Martinez offering a Bob Ross painting class.  I made time to take 1.5 hours for myself to sit and paint – and it was one of the best moments of my CHA experience.  I remember watching Bob Ross many times on TV and was always amazed how he could bring 'those happy little trees right out of his paintbrush and onto the canvas' and create an entire painting in one episode.   I think I'm hooked.   I've played with Shiva Oil sticks, but have never played with oil paints before this time.  I've painted with inks, acrylics, and watercolors (not so well with watercolors), but was in love with this entire process.  I guess I'm a little freakish; I loved the sound of the paint and palette knife on the canvas, I loved the smell of the oil paints, I loved the way it just blended, and of course, I made a mess and got paint on nice dress slacks too.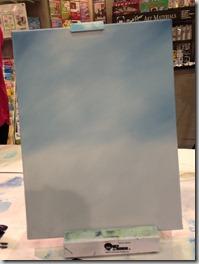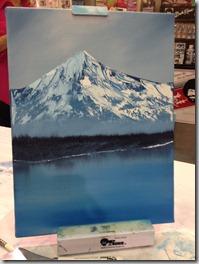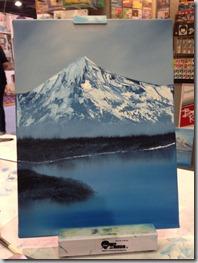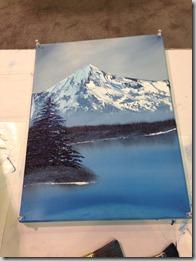 It was like magic to sit down and start with a blank canvas.  I learned more about the wet-on-wet technique made famous by Bob Ross.  I met some wonderful people who were working in the Martin/F Weber booth, and left with a canvas that I painted myself.  It was so much fun. Look, I made a happy little tree!
I think this is one reason I love teaching so much.  I know how much fun it is when someone just nudges you in the right direction and takes the time to show you a great technique or 'just the right way to hold the palette knife' to make something out of nothing.
Guess what is now in my studio?  Yep, I've invested in a few paints and some turpenoid, and even have a garbage can to beat my brushes in. Who knows what I'm going to do next.
Thanks for stopping by.