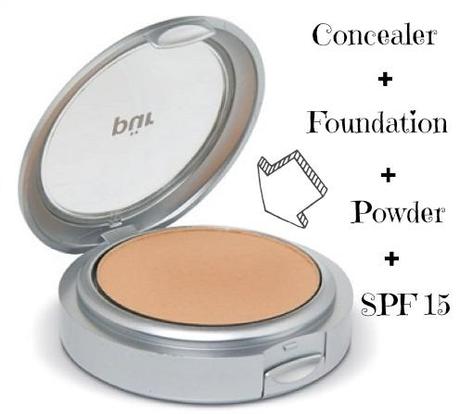 I'm all about makeup products that can deliver the "pretty" in a hurry. My latest speedy beauty obsession? Pur Minerals 4-in-1 Pressed Foundation. This multi-tasking gem acts as a concealer, foundation, powder, and SPF — all in one handy dandy compact! Here's the mineral-loving scoop, beauties:
Beauty 411: Pur Minerals' 4-in-1 Pressed Mineral Makeup Foundation ($26) is a natural mineral makeup concealer, powder and SPF 15 protection all in one. This multi-tasking foundation is pure mineral pigment ground to the smoothest texture and bound with organic shea butter and vitamin E (which means flawless coverage and uber smooth skin). And it's easy to find your perfect match as this one-minute beautifier comes in a huge range of colors: Porcelain, Light, Blush Medium, Golden Medium, Tan, Medium Dark, Dark, Deep, Deeper, and Deepest. Not sure which shade is perfect for you? Pur offers a shade-selection guide that makes it super easy to find your perfect foundation color.
Why you'll love it: Pür Minerals Pressed Mineral Foundation is super easy to use without the traditional mess of other makeup products (read: no more loose mineral powder on the bathroom counter, sink, floor, and other random places). To boot, Pür Minerals mineral makeup foundation does not contain harsh chemical dyes, alcohol, fragrance or preservatives, so the only think you're getting from this pressed foundation is a gorgeous complexion.
Built-in skincare + Flawless coverage in under a minute? Miracles do exist!
Happy one-minute beautifying, makeup mavens!
Are you a fan of pressed mineral powders, readers? Do you have a fave?

Crows' Feet, Cupcakes, and Cellulite does not accept compensation for reviews. Samples may have been provided. Opinions are 100% the author's own.