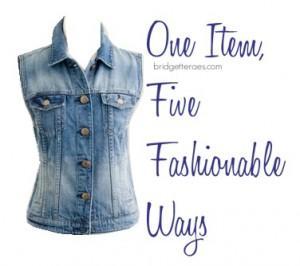 While I have been a New Yorker for the past 15 years, I grew up in New Jersey during the 80′s.  I can't look at a denim vest without thinking of bad metal bands, big hair, carnival freaks and Bruce Springsteen.  Bruce Springsteen aside, my denim vest related memories have always seemed like a tragic mistake.  Yet here I am, years later, styling denim vest outfits with this one from J. Crew.  What goes around eventually comes around.  Yet, with this particular style flashback, I'm just hoping it doesn't include Stiff Stuff hairspray, some stringy carny trying to guess my weight and songs with the singer asking me to talk dirty to him.
As a stylist, I like a challenge.  Here are five denim vest outfits for today's One Item, Five Fashionable Ways.  Can I make the denim vest look appealing?  You be the judge.
Five Denim Vest Outfits
Look #1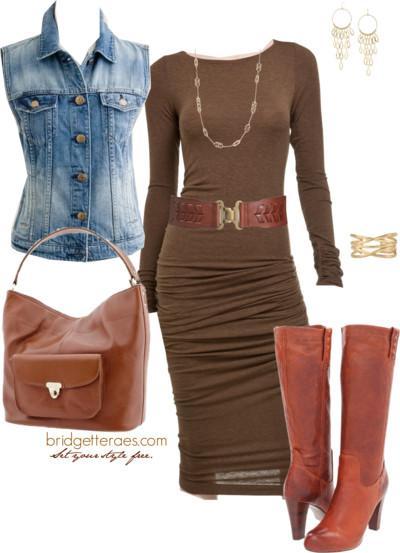 As Stanley Tucci's character Nigel says in The Devil Wear Prada, "Give me a full ballerina skirt and a hint of saloon and you know I'm on board", I feel the same way about tones of brown, especially when it includes a rich luggage shade, like in these boots by Frye.  That's right, give me a shade of luggage and a hint of town and country and I'm on board.
There is something rugged when you combine these shades of brown, regardless of how sophisticated the outfit, for the denim vest to play in nicely, in a Ralph Lauren rancher kind of way.  The basic brown Max Studio dress creates the base for the boots, the Fossil belt and the Banana Republic handbag to play off of.  An elegant gold bracelet, earrings and necklace, all from Stella & Dot, bring in some polished sophistication.
Look #2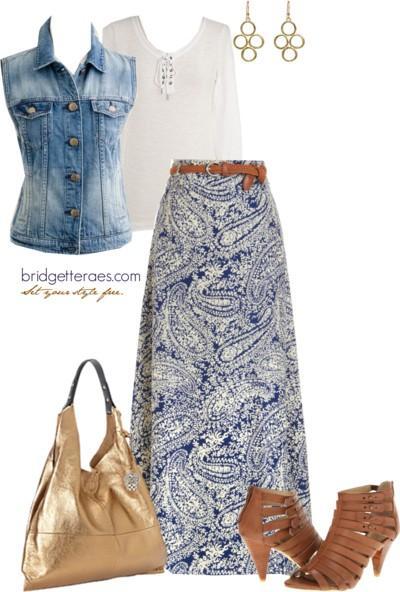 With a maxi skirt, like this one from Modcloth.com, the denim vest gives the outfit a boho finish while shaping the waist.  For a dressy-casual weekend look during the transitional season, a simple long sleeved t-shirt, these strappy booties from Gabriella Rocha and a gold handbag and earrings allow you to bring a summer maxi skirt into a cooler time period.
Look #3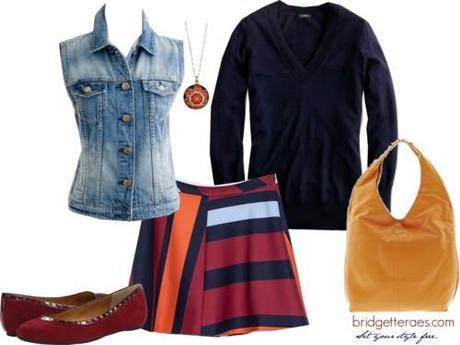 For a casual work environment, or if you are looking to create a dressy casual weekend outfit, the denim vest works well with this short, flippy, geometric skirt from Zara.  With this slim, basic J. Crew sweater in navy, the burgundy flats from Anne Klein and orange handbag, all the colors found in the skirt are brought into the outfit.  Lastly, the Frolick pendant adds some coordinated pop.  What I like about this look is that it can easily transition into cooler months by adding navy tights and, perhaps, a burgundy pair of boots.
Look # 4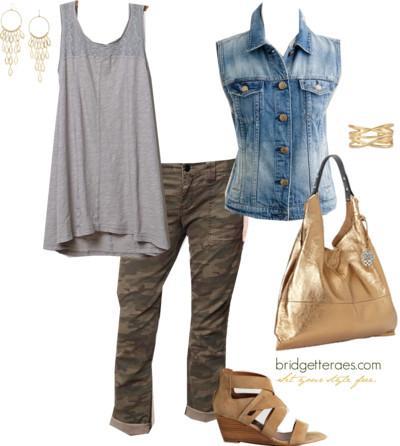 Denim vests and camouflage go together like peanut butter and jelly, well, at least they did in New Jersey in the 80′s.  However, updated for today's more stylish world, I have to admit, this could be one of my favorite outfits in this post.  I guess it is true – you can take the girl out of Jersey but you can never take the Jersey out of the girl.  I don't know.  Be that as it may, for a stylish weekend look, this pair of cropped camo capris, relaxed gray tank and tan suede strappy wedges, all from Anthropologie, the same metallic bag and gold accessories, used in previous outfits above, looks polished, in a "I just threw this on", yet coordinated, way.  Plus, the denim vest adds flattering waist shape over the relaxed top. I could definitely do errands in my current hipster Brooklyn neighborhood wearing this.
Look #5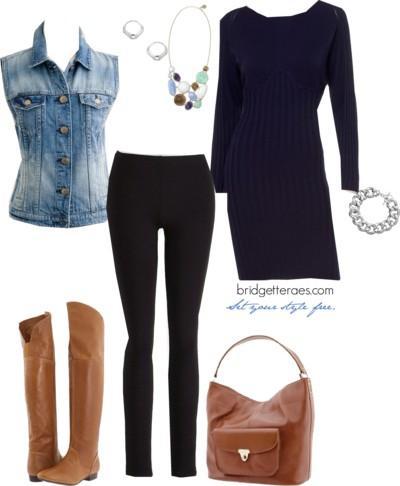 Lastly, the basic sweater tunic and leggings, a popular basic for most women when the weather starts getting cool.  The column look of the monochromatic black is slimming and lengthening, yet it can get boring if you don't change it up with some fresh punch.  One way to do it, while still maintaining the slimming lines, is to throw a denim vest over the black.  In addition, instead of just wearing basic black accessories with this look, try warming it up with a pair of casual luggage colored boots, a shade that works better with black than dark brown, and a luggage colored handbag.  To bring in some color, I added Stella & Dot's denim friendly Oasis Bib Necklace along with a basic silver bracelet and stud earrings.
Am I rushing out to purchase a denim vest?  Probably not…just yet.  However, after giving this 80′s relic a style update, I am a bit more open.  What about you?


Repost This Article