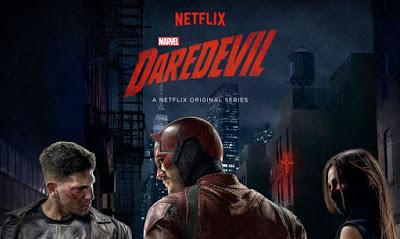 So season 1 of Daredevil was amazing, so naturally my expectations for season 2 were equally set. Honestly, my take on the second season of this Netflix show is very much like a roller coaster. There were stretches of episodes where it was fantastic, then boring and irritating, then interesting, then ridiculous, then fantastic again. With that much fluctuation I can't really say that the second season was really that good. There was a lot of over the top drama happening amongst the characters that came off as juvenile and annoying frequently, especially with the character Foggy Nelson, whom I cannot really stand as a character. So in this season enter The Punisher and Elektra and a weird ninja organization (which was never really resolved or explained) and you'd think that with that combination this entire season would be in the bag, but not quite. The story revolved essentially around those two characters and all of the chaos and problems they created. Now I'm just waiting for Blade to pop in (that should be interesting; vampires in Daredevil). So Charlie Cox as Daredevil is perfect and his character got more complex and interesting in this season, but they could have made him more complex, but they really kept that "knight in shining armor" look for him, which really only seems to work completely for Captain America. They had several opportunities for him to become darker and complex, and they never went for it. Eldon Henson as Foggy Nelson was irritating in my opinion all of the time, and very, very preachy to a tiresome degree (there was a lot of preaching in this season from many characters). Deborah Ann Woll as Karen Page did good with her character in this season, but her crusading naivety was also tiring as well; her character became more than just a victim and took charge of her life, but her naivety was quite taxing. So Jon Bernthal as Frank Castle the Punisher was for the most part awesome; the best scene in the entire second season was with him and Daredevil, but I don't think his character was explored very well and was used mainly as an element in action sequences. Elodie Yung as Elektra was also quite perfect, and even though I know very little about the character, I think she was definitely an improvement over Jennifer Garner. She was a great foil for Daredevil, I just don't think their relationship, or her character were fleshed out or written very well. There was a lot of predictable lover's drama going on, which was at times exasperating. Thank goodness for Scott Glenn as Stick and Vincent D'Onofrio as Wilson Fisk, even though they had smaller roles in comparison to some of the other characters, they were perfection and those episodes they were in tended to be the better ones. Both men are excellent actors and brought those qualities to their characters, and it really showed. Rosario Dawson was also good in the show with her nurse character Claire, but she was also quite preachy.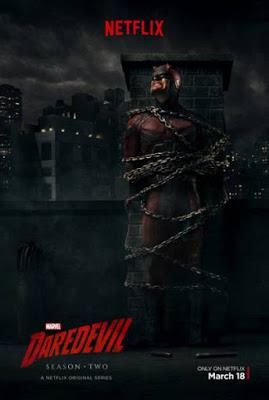 So the show was pretty much a bunch of shooting and killing for the first five episodes or so; I thought it was fairly boring, but then it finally got interesting and then was up and down after that for a bit. I really hope they don't give The Punisher or Elektra their own shows, I feel like that would be far too much, and personally I'm getting really comic booked out; that seems to be all that is coming out. Give it some time though, and the same thing will be happening with Star Wars. The second season of Daredevil was good, but not that good. Netflix I think is starting to have a problem with their shows where the first season is stupendous and then they have trouble following up with equally astounding seasons of their shows. If they want to stay in the long run of program creation they're going to have to find a way to make certain their shows are always getting better, not worse. Should be interesting to see what the future of Netflix and Amazon are, as well as traditional cable and satellite programming.
Daredevil season 2 trailer
Interview on Daredevil and Punisher characters
Ben-Hur trailer (new movie, new ideas....looks terrible).