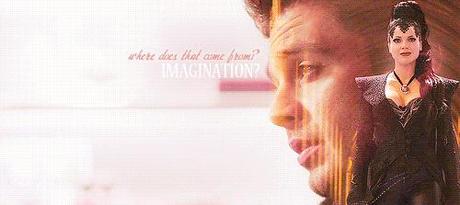 (image credit)
It's about time we put pieces together as we're heading toward season finale, so I began to share some questions on Twitter which I'd like to share with you also. The point is I'd love to know what you think and what are your specs. I'm not particularly good at this, but I'm willing to try for once and to read your opinion/suggestions.
So, don't keep reading if you want to keep yourself spoiler free!
1) The Mad Hatter: apparently he disappeared. He might be back in Fairyland or Wonderland, BUT he could always come back, right? And make Emma believe showing her what the hat she made can do.
2) The HAT! Emma kept it! And probably bring home with her. Will she have an unannounced visit from Jefferson?
3) August knows much more that we can imagine. He kinda made a copy of the book and said to Henry he's a believer. How could he convince Emma that stories told in storybook are true? And who is he? Why does he know so much?
4) Emma should kiss someone else in order to break the curse, so she's certainly not doing any progress if she kisses August (which I hope she does) given he's not a fairy character. Unless she kisses David or Mr Gold or… does this rule apply also to women? 'Cause she could kiss Mary Margaret or Regina! LOL
5) Emma should remember what Graham told her after he kissed her: "I remember." She should just put the pieces together and come to terms with what's going around her.
6) It's just a wish: oh, I would love to see Emma going to fairy land and meet the huntsman!
So, what do you think? Do you have more questions and theories to share with us? Speak your mind!