Once Upon A Tart Café, Glasgow
May 8, 2014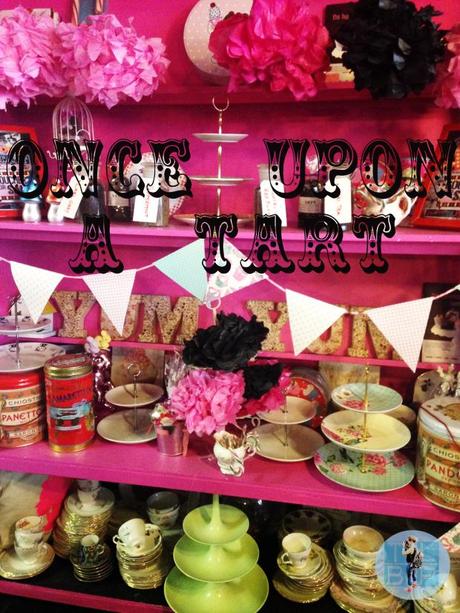 Ba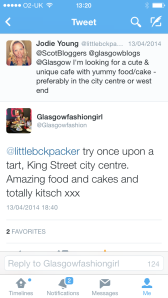 ck in April for my birthday my only wish was to go to a café for lunch, still not knowing much about Glasgow I turned to twitter for recommendations. In true form the Twitter community was extremely helpful especially @scotbloggers for retweeting to all of their followers. In the end I had so many recommendations it was hard to choose where to go. I started to narrow it down by location and was left with three: Once Upon a Tart, Riverhill and Trans Europe Café. I purely chose Once Upon A Tart because I loved the name.
It is located in the heart of Merchant City and captures you from the minute you walk in the door. The interior is quirky but gothic with many of the walls painted black and everything else a shade of pink. The furniture is all completely different but just adds to the amazing quirky feel. I totally felt like I had landed in café heaven! The walls were full of art either posters or drawings, chandeliers hung from the ceiling and decorations all around. Despite the black walls and ceiling it didn't feel too dark inside. I was in absolute awe of the interior and sat staring for far too long.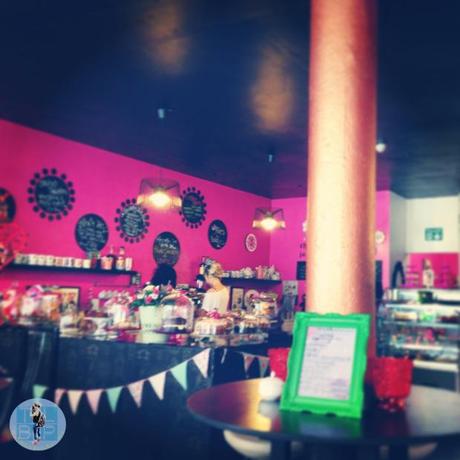 The staff were so friendly and prompt to serve us, the only problem was I was completely distracted it took me so long to decide what I wanted! In the end I settled on a pot of tea and a roast pepper and mozzarella ciabatta. I was blown away by my pot of tea – the pot was huge and the cup was the cutest thing I've ever come across. The food was delicious and my ciabatta came with slaw and crisps. My boyfriend had a chilli bowl which was also delicious. That wasn't the highlight though and the reason it took me so long to decide on my food – I wanted cake and didn't want to be too full up for cake.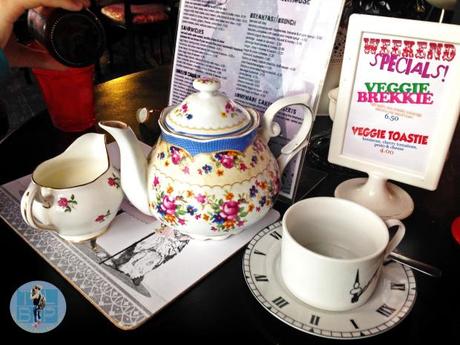 My Tea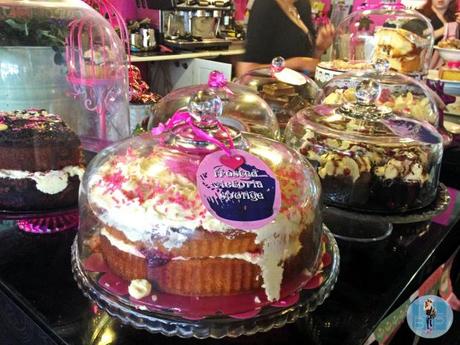 Cake Counter
The whole of the counter is covered in cake stands of cakes, anything from Victoria sponge, cupcakes or cheesecake. After much debating (again) I chose a piece of a red velvet sponge covered in white chocolate decorations. It was amazing! I have only ever had a red velvet cupcake but the sponge red velvet with icing between the two layers was even better than anything I'd tasted before.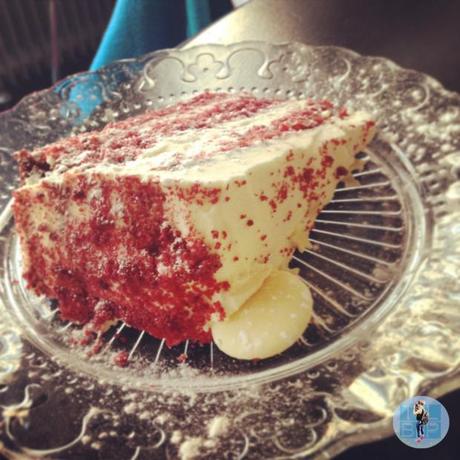 The Red Velvet Cake
Having researched and thought very hard about which café I would visit in Glasgow for my birthday I was over the moon with my choice. It was an incredible café from interior to food to staff. I could not recommend a trip here enough and make sure you try the red velvet cake!