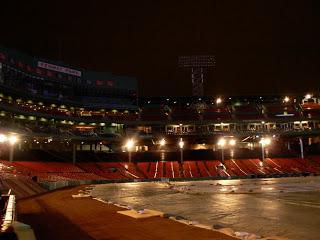 The Red Sox' 2017 came to a disappointing end last Monday, as they went out to a clearly better Houston Astros team in four games in the ALDS.
And as everybody and their brother-in-law knew what would happen in the wake of that was John Farrell would be let go as Red Sox manager after five years at the helm.
Farrell leaves with a World Series title in 2013 and three AL East division titles, the latter something no other Red Sox manager can claim. But the second straight ALDS loss gave management the impetus to give him the boot.
It was time to change. I never thought of Farrell as a good in-game manager, as too many times he left me scratching my head. This season brought another postseason berth, but it seemed like a slog too much of the time, as the Sox would struggle to score runs at times, and the background drama didn't help much at all, like the dustup in Baltimore, the David Price-Dennis Eckersley confortation, and the nonsense with the Apple Watch. To me, it looked like Farrell wasn't much of a leader in these situations.
OK, he's out. Who replaces him? You've heard all the names: Alex Cora, Brad Ausmus, Jason Varitek, Sandy Alomar Jr, Gabe Kapler, etc, etc. I personally would love to see the Sox bring in Alex Cora, a member of the 2007 champions and a guy with a great rep for baseball smarts. I remember back in those days, Cora was talked about being a future manager. I'm betting it won't be a long wait to name a new boss (although the Sox have to wait for the Astros season to end to talk with Cora, as he's a coach there).
And what will the Red Sox do this offseason? There are obvious holes to fill. Who plays first base? Do the Red Sox bring Mitch Moreland back, or go after free agent Eric Hosmer? I'd love to see Hosmer in a Sox uniform, but with Scott Boras as his agent, he'll be looking for a huge payday. There's now a big question over second base, as Dustin Pedroia's knee looks like it will be a continuing problem, even if he does have surgery this offseason. Eduardo Nunez impressed in his brief stint here, but he's a free agent, and I'd love to see him back as insurance, especially if Pedroia isn't ready to start 2018 on time.
You can't go on any Red Sox fansite and not see someone who thinks trading for Giancarlo Stanton will solve the Red Sox' big need for a big bat in the middle of the order. Don't count me as one who agrees with this. Stanton has a contract with 10 years still on it, and $295 million still owed him. And the Marlins will want a nice haul of players should they talk trade this winter. His value right now is as high as it will ever be, so moving him now makes some sense for them. But from the Sox they would be looking for players like Andrew Benintendi, Xander Bogaerts, and Eduardo Rodriguez. The Marlins don't want prospects for him, they want young MLB talent in the Show right now. I'll pass.
Going after free agent J.D. Martinez also makes sense for the Sox right now. The only problem now is that they have a crowded outfield right now, unless Martinez is interested in being a DH. The Sox also have to figure out what to do with Hanley Ramirez. He had a solid ALDS, but this season was a slog for him, as he didn't replace David Ortiz as a solid DH. He's got one more year on his deal.
The Red Sox rotation for 2018 right now looks like: Chris Sale, David Price, Rick Porcello, Eduardo Rodriguez, Drew Pomeranz and Steven Wright (remember him?). That's six starters, so they'll have to make a decision about how to get that down to five. Sale, Price and Porcello aren't going anywhere, as is Pomeranz. Wright is coming off a season that ended early with an injury and you figure he'll be back. So that leaves Rodriguez. He's been someone who makes you incredibly frustrated, as he looks like an ace one start, and someone who belongs back in the minors the next. Could he be packaged in a deal for a big bat?
The bullpen looks like Craig Kimbrel will be back as closer, with Joe Kelly, Carson Smith and the return of Tyler Thornburg setting him up. Addison Reed was terrific as a late-season addition, but he's looking to close and will sign elsewhere as a free agent. Austin Maddox was a pleasant surprise as a late-season callup, and Brandon Workman showed flashes of his 2013 brillance, returning from Tommy John surgery. Matt Barnes and Heath Hembree? I'd rather see them on other teams but they figure to return.
The Sox also have to address the catching situation. Christian Vazquez had a solid year, both at the plate and behing the plate. He should be getting more playing time in 2018. The Sox have to decide who backs him up: Sandy Leon or Blake Swihart. Leon came back to earth at the plate in 2017, but Swihart is out of options after dealing with injuries at AAA in 2017. He has value and figures to be moved if the Sox go with Leon  next season.
2017 will probably not be remembered fondly by most Red Sox fans years from now. They were beaten in the ALDS by a heavily favored and loaded Houston Astros team, so I don't look at like it was an incredibly disappointing year. But they have holes that have to be addressed in order to rise to the top of the AL, especially with those behemoths to the south (no names but you know who I'm talking about) getting stronger.
Keep the faith, folks. Pitchers and catchers report to Ft. Myers in 124 days from now (give or take a few).