Check out the latest article on the NFL playoff games and who may be going to the Super Bowl.
Ranking the possible Super Bowl LIII matchups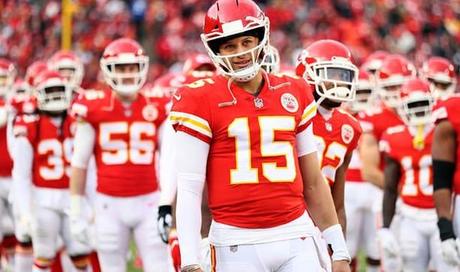 In four of these, the pick is our Chiefs, with the number one pick being Chiefs vs. Rams!
16. Colts vs. Rams: Nothing wrong with Andrew Luck vs. Jared Goff, and this would be a fresh matchup. Just not a lot of sex appeal and the Rams have a limited fan base.
15. Colts vs. Saints: Same deal, except New Orleans has a much larger fan base and wouldn't be far from home. This is also a rematch of Super Bowl XLIV. Blowout potential is higher than you'd like.
14. Colts vs. Cowboys: What we're saying is there really are no terrible potential matchups left. Nothing wrong with these two teams, and the Cowboys are the Cowboys — very popular and very polarizing. But neither team feels Super Bowl-worthy this year.
13. Chiefs vs. Cowboys: This would be fun, but there's not much to it and Kansas City would be a clear-cut favorite.
12. Chargers vs. Cowboys: This is basically on the same level as Kansas City-Dallas, except the Chargers are chasing their first-ever Super Bowl on the back nine of Philip Rivers' career and there's a better chance this would be a close game.
11. Chargers vs. Eagles: Everything we just said about the Chargers, but now you've got the Nick Foles magic and Philadelphia chasing back-to-back championships — something nobody has done in the last decade.
10. Colts vs. Eagles: Andrew Luck and the Colts might be slightly more of a draw than the Bolts.
9. Chargers vs. Saints: Philip Rivers vs. predecessor Drew Brees would be interesting, but I'd be concerned about a potential New Orleans blowout. The Saints would practically be at home against a team that lacks a fan base.
8. Chargers vs. Rams: Even though the two franchises lack large fan bases, a battle between two teams from the same city would be pretty damn fantastic.
7. Chiefs vs. Eagles: Philly going for the repeat against the league's highest-scoring team in a battle between former colleagues Andy Reid and Doug Pederson.
6. Patriots vs. Rams: Can the Patriots beat the team they defeated in their first Super Bowl in order to win their sixth?
5. Patriots vs. Cowboys: This would be a freakin' ratings bonanza for CBS. Quite possibly the two highest-profile teams in the NFL, but I'd fear a New England blowout.
4. Chiefs vs. Saints: Patrick Mahomes vs. Drew Brees in a battle between the league's two most valuable players, and it'd probably be close.
3. Patriots vs. Saints: Tom Brady and Drew Brees are two of the most accomplished quarterbacks in NFL history, and you'd have an interesting dynamic with New England chasing its sixth Lombardi Trophy in essentially a road game only 400 miles from New Orleans.
2. Patriots vs. Eagles: This would mark only the second time in NFL history in which teams met in back-to-back Super Bowls, and this one would be especially intriguing because Philly is once again led by Nick Foles while the Patriots are trying to bolster their incredible legacy.
And the one we really want to see:
1. Chiefs vs. Rams: When they met during the regular season, the two most lethal offensive teams in the NFL only combined for 105 points in the first-ever NFL game in which both teams scored 50.
...with Chiefs going all the way, naturally.
GO CHIEFS!!