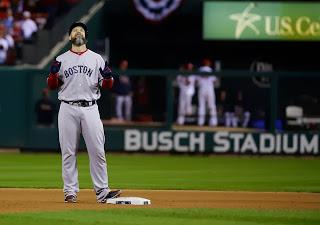 One more.
The Red Sox are just one win away from one of the greatest turnarounds in baseball history, as Jon Lester was simply brilliant for 7 2/3 innings and the Red Sox won the pivotal Game 5, 3-1.
The Sox opened with back-to-back doubles in the first from Dustin Pedroia and the Baddest Man On The Planet, David Ortiz. Papi had three more hits last night, and now has 11 for the World Series. he's two off the all-time record, and is hitting an absolutely astounding .733. He tied the record for most consecutive WS appearances reaching base with 9, and now has the highest lifetime batting average ever for a WS player with at least 50 PA at an incredible .465.
Lester threw one bad pitch to Matt Holliday in the fourth, and that tied the game at 1. It is the only run he has allowed in three WS starts in his career, and became only the second lefty in Red Sox history (along with Babe Ruth) to win 3 World Series games.
The Sox rallied in the 7th off Adam Wainwright, as with two on and one out, David Ross hit a ground-rule double to put the Sox ahead to stay. After Lester grounded back to the pitcher, Jacoby Ellsbury singled in Stephen Drew, while Ross was thrown out at home. It wouldn't matter.
Koji Uehara came on with two outs and a man on in the eight, and struck out Matt Adams to end the inning. St. Louis went 1-2-3 in the ninth to wrap up the game and but the Sox up 3-2 in the World Series.
Boy, the Red Sox have been in some tailspin since that wacky ending to Game 3, huh? It shows the resolve of this incredible team, that after such a horrible way to lose a World Series game on Saturday night, they come right back and beat the Cardinals twice in a row at home. (St. Louis was the NL's best home team this year.)
It's still far from over, as John Lackey will take on Michael Wacha again, a repeat of the Game 2 starters. The Red Sox will try to win the World Series at home for the first time since 1918.
It was the Red Sox' 107th win of 2013, 38 more than they had in 2012. Win number 108 will make history.