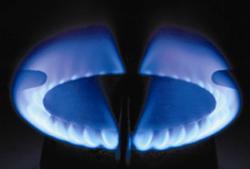 With natural gas prices hovering around $2.44 per MMBtu—less than half of what they were 18 months ago—compressed natural gas (CNG) is now starting to make sense as an alternative fuel for vehicles.
According to the Wall Street Journal, the number of dual-fuel vehicles is increasing. In a recent press release, General Motors said it will partner with Impco Automotive to produce CNG-powered versions of the 2013 Chevrolet Silverado and GMC Sierra 2500 pickup trucks, available to retail customers beginning next month. By June, Chrysler will also sell pickups that run on CNG in its Dodge Ram lineup, but it will be the first company in the industry to make production-line CNG pickups. While the Dodge models will provide a combined range of 367 miles (255 miles on CNG, 112 miles on gasoline), the combined range of GM's pickups will be as high as 650 miles. The engines in both vehicles will switch automatically between gasoline and CNG.
Though prices have not been released by GM or Chrysler, the premium for CNG vehicles makes them somewhat exclusive. The Honda Civic NG, which has been on sale in the U.S. since 1998, starts at $26,155—roughly $10,000 more than a similarly equipped gasoline Civic. But, since standard Civics have low operating costs to begin with, the return on investment stretches out to over 15 years.
For gas-guzzling pickups, however, the return on investment appears to be much sooner. A 2009 Edmunds.com article states that Impco Automotive charges customers between $7,000 and $8,000 for a kit that runs alongside the original fuel system. Therefore, in the "best" case that a Chevrolet Silverado 2500 HD drove roughly 15,000 miles per year, got 11 miles per gallon (MPG), and used only natural gas, the annual fuel difference ($1,132) would result in a return on investment of a little over six years (Department of Energy Cost Calculator). According to a Wise Bread article, the average ownership of a vehicle is 5.5 years. However, given the fact that the price of natural gas is predicted to increase to $5 and $6 per MMBtu by 2015, CNG vehicles might not make as much sense down the road as they do today.
[Image]