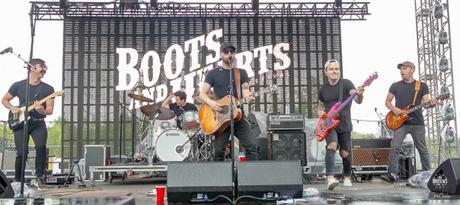 Rain was falling on the Friday afternoon crowd at Boots & Hearts 2017... and then it cleared and the sun came out as Andrew Hyatt and his band, The Good Intentions, took over the Front Porch stage and played their hearts out.
We caught up with Andrew after his set, and we talked about the crowd that came in to watch him play. It was a great assembly of music fans, and they were there for a good time, which always helps things. And while Andrew does love greasy, sweaty club shows - he told us that being in front of the Boots & Hearts crowd and watching them engage with the music and the band was fantastic. He told us that looking out and seeing people singing his songs back to him, the singles and the deep cuts that made the record ( Iron & Ashes) because he loves them, was special because it means they've listened to the record that he worked so hard on.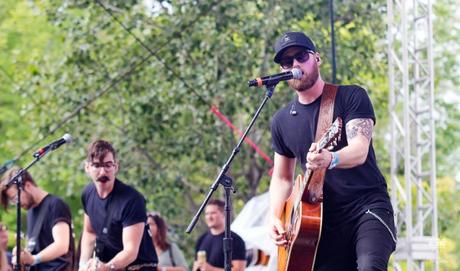 Related: Andrew Hyatt, Iron & Ashes Album Review and Q&A
On stage the boys, lead by Andrew, gave it everything they have. The sound was full, with every guitar part and bass line doing its job to create a live music experience for tracks like She Ain't You, Most Of Me, and his very first Top 20 song at country radio, On Me. The transitions from uptempo tracks to slowed down songs was seamless and well received by the crowd, with everyone willing to follow wherever they were taken.
I asked Hyatt about landing in the Top 20 with On Me, and he told me that it's a sweet feeling. His first calls he says were to the band to share the good news. And to celebrate, he cracked a bottle of Crown Royal special reserve that he had been saving for this specific occasion.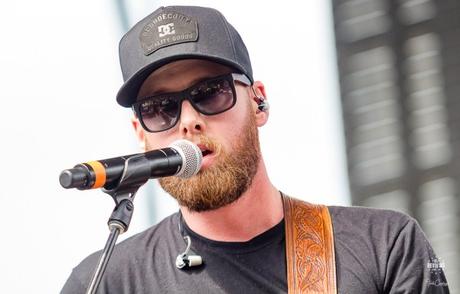 Andrew Hyatt isn't slowing down any time soon. With the CNE booked, and showcases and performances coming up at Canadian Country Music Week and the CCMA celebrations in September, there's still lots to prep for and look forward to.
AND, there's big fall 2017 news that he would love to tell you about, and that we would love to tell you that we know - but we're all going to have to stay tuned for that.
Andrew Hyatt, Boots & Hearts 2017 Setlist
🥃 That's How I'm Livin'
🥃 Most Of Me
🥃 Girl I Do
🥃 MGR (Me And A Girl And A Radio)
🥃 We Only Kiss On Sundays
🥃 She Ain't You
🥃 On Me