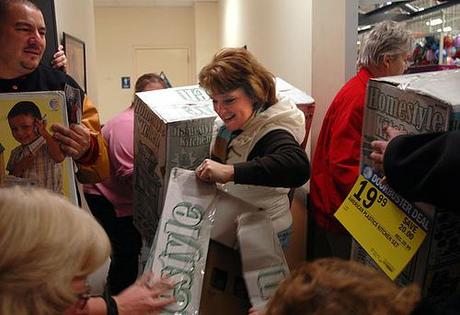 Photo by Beth Rankin
Whether or not you fear the horrors of Black Friday shopping, you should know that you can make a difference in the future of the traditional shopping day. The difference may only affect you at first, but the more people change their habits the more they can influence the behavior of others.
Here are a few things that you should keep in mind when planning your holiday shopping this year.
Support Stores That Honor Their Families And Employees
Every year, stores have been opening earlier and earlier on Black Friday. In 2012, many started opening on the evening of Thanksgiving. This year, some stores will be open all day on Thanksgiving to try to get an edge on competitors. That means their employees will have to miss out on Thanksgiving with their families.
But not all stores are being so thoughtless. Goedeker's and many other stores will honor the holiday and let their employees have the day off. As a family owned company, Goedeker's knows how important family is to the people who make our business possible.
If you do not go shopping on Thanksgiving, and instead spend your money at businesses that do not turn a day of thanks into a day of shopping frenzy, you can help influence a change in how business is done. Already petitions from employees are surfacing asking stores to reconsider their Thanksgiving weekend schedule, but customers like you can vote more powerfully with your money.
Shop From A Reputable Retailer
Black Friday has become such a huge shopping holiday, that you will get advertisements and emails announcing Black Friday specials from just about anyone who wants your money.
Pay attention to the retailers you know and would shop from regularly. Keep an eye on established businesses with a proven track record for the best – and safest – deals.
Goedeker's has been in business since 1951, and this year is not our first time having Black Friday specials. We've learned from our experiences over the years how to improve customer service and adapt our service to our customer's needs. Ask yourself – is the retailer I am about to buy from ready to handle the incredibly huge amount of orders they will receive with this sale?
Here are some recent compliments, reviews, and thanks we at Goedeker's have received from our customers:
"I had never heard of Goedekers until I recently placed an order. I am a deal seeking fool, who feels the need to research and shop around for everything. We have been piece by piece replacing appliances. Our last piece (our stove) we ordered from Sears. After ordering I researched a little further and found Goedekers web site. They had the same exact stove at a fraction of the price. Matter of fact they had a upgraded model for less than what we paid at Sears for the lesser model. I cancelled the order and placed one with Goedekers. My wife was hesitant but I reassured her I did my homework and it would be OK. Great customer service and the delivery guy was great. Wish I had found them for my other appliances." -dannyputbrese 11/05/2013 via Yellow Pages

"This is the best internet retailer of appliances. My husband was an appliance professional with a major appliance company and he and I rate this company as A+++ for staying I touch! getting your appliances to you on time and the best customer service available. A great Christian based company that truly care about their customers and the product lines they represent. We are very happy with our entire shopping mad purchasing experience." -jeannie.fair.75 11/04/2013 via Yellow Pages

"Our experiences with Goedekers are always positive, leaving nothing to question. Whether completing the order totally online or with the assistance of a customer service representative, every aspect of the order is straight forward and easy to complete. Delivery options are explained and carried out to the letter. Thank you for always meeting our needs and exceeding our expectations." -ralph.buskirk 10/30/2013 via Yellow Pages

"Our experience was absolutely the best. First time buying anything major over internet. Your people make your company. They were all so helpful and made the experience wonderful from purchase through delivery. Our Kitchen Aid double ovens are installed and we love them. Thanks again and looking forward to our next visit with you." -Robert Hill 11/02/2013 Goedeker's Reviews Page

"I have recommended you to my family and friends and sent them the URL for your company because I am so impressed with your service and savings. On three appliances I saved over $900 and that was compared to Home Depot and Lowes!" -Carol 11/01/2013 Goedeker's Reviews Page

"The selection and price is amazing! The delivery was right on target even after I had to make changes. Increasing the warranty out to ten years was the clincher. I will definitely use and recommend Goedeker's in the future." -Anthony Battistelli 10/31/2013 Goedeker's Reviews Page

"Very smooth transaction over the phone. Kind support. Great price. My refrigerator arrived on the day it was promised and in perfect condition." -Jorge Mundulas 10/30/2013 Goedeker's Reviews Page
Shop Online, Avoid The Crowds
Crazy things happen when you combine crowds of people, limited stock and incredibly low prices. Every year there are reports of violence and uncivil behavior at Black Friday sales at local stores.
You can avoid the crowds yourself by shopping online. By not showing up for the latest early-morning frenzy at your local big box store, you can also help lessen the pressure on other shoppers and employees who must face the swarming masses on Thanksgiving weekend.
Goedeker's will have all of our specials available online, including our amazing Black Friday and Cyber Monday rebates from your favorite appliance brands.