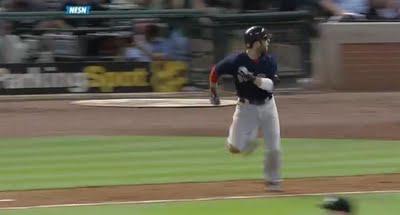 It looked to be another interleague crapfest in an NL park on Friday night. Marco Scutaro led off the game with a home run, but that lead didn't last against the worst team in baseball, the Houston Astros. Houston scored one in the first and two in the second and it looked like the night might be theirs.
The Sox didn't get another hit off Bud Norris until the sixth inning, and he struck out ten. No Jacoby Ellsbury, as he was ill, and of course, David Ortiz sat on the bench again. Bloody hell.
But the Sox woke up in the seventh, as Norris ran out of gas. They rallied for six runs, and got two-run RBI hits from Dustin Pedroia and Adrian Gonzalez. Did you see the lip Pedey was giving to home plate ump Laz Diaz after the hit, over a close strike he called earlier in the at-bat? (Pictured above, with thanks to Joy of Sox, who originally posted the picture.)
It was a rough night for Tim Wakefield, as he allowed all five Houston runs in just over five innings. But the offense rescued him, and the bullpen did a fine job after he left, with Dan Wheeler getting the win and Jonathan Papelbon getting his 16th save.
Yankees beat the the Mets so the Red Sox remain 2 1/2 games back. The first half of 2011 is now in the record books, as last night's game was the 81st of the year, and the Red Sox are 47-34. Andrew Miller takes the mound tonight in Houston against J.A. Happ.