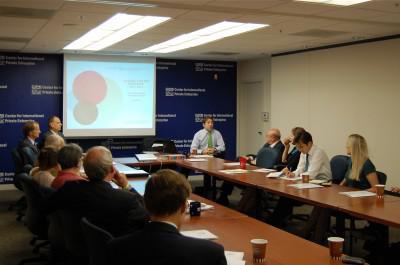 At yesterday's presentation with Fernando Straface, seated in the middle at the head of the table, with a green neck tie. (Photo: CIPE)
A half hour before yesterday's 8:30 a.m. discussion on Promoting Policy Debate in Argentina, a stranger knocks patiently at CIPE's front door. He introduces himself as Fernando, and suddenly it hits me. This man and the think tank he leads are setting the stage for Argentina's first Presidential campaign debate ever.
He shows no signs of exhaustion from an unusually lengthy trip that involved multiple days of delays due to clouds of ash spewing up from a volcano in Chile, and more than 18 hours of transit once on the plane because of seemingly irrational connections. He smiles warmly and graciously declines my offers of assistance, content to set up his presentation on his own. Unassuming in stature, well-mannered, and unpretentious, if you met him on the street, you would not presume that he is the executive director of  Center for the Implementation of Public Policies promoting Equity and Growth (CIPPEC), a highly visible organization that is carrying out extremely important work in the public policy arena in Argentina.
The crowd slowly filters in, making a straight path for the coffee as part of an effort to stay fully alert at this early morning discussion. Representatives of from think tanks, NGOs, consulting firms, and even Campbell Soup Company mingle over D.C. staple food and beverage: Corner Bakery coffee, bagels, and muffins.
John Zemko and Matt Dippell, Directors for Latin America and the Caribbean at CIPE and NDI, respectively, open with a few remarks about the excellent strides CIPPEC is making in promoting public policy dialogue. Surprise guest Mike McCurry highlights the importance of the CIPPEC's work on promoting presidential debates. Then, Mr. Fernando Straface takes the floor to introduce CIPPEC's Agenda for the President project.
If there is any morning grogginess left in the room, it evaporates when Straface mentions that Argentina has never had a presidential debate. Never.
Presidential candidates in Argentina have previously seen debates as a sign of weakness. In contrast, presidential debates in other countries in the region have actually helped create a space for discussion on candidates' positions on important policy issues. During presidential campaigns in Argentina, candidates typically focus less on policy, and instead center the discussion on personality politics and make vague references to universally desirable goals, such as "to reduce poverty," or "to improve education."
The absence of a culture and practice of presidential debates, compounded by the candidates' disinclination to engage in concrete policy discussions or to define policy strategies, have led to unstable public policies. In addition, these issues have created a lack of consensus that is necessary to advance policy agendas that could help Argentina actually achieve its development goals.
The CIPE-supported Agenda for the President project seeks to promote a deep and profound debate of policies that directly affect Argentina's development. In this vein, CIPPEC has produced fifteen Memos for the President that address key issues such as education, health, social protection, the economy, energy, security, justice, and transparency, among others. These Memos identify major challenges in each area, and also propose solutions to confront these problems. In addition to multiple events and presentations made on a weekly basis to civil society groups, members of the government, academia, and others, CIPPEC publishes numerous articles and Op-Eds in national and local publications to expand the scope and reach of this important project.
With the first round of elections approaching in October, much remains to be seen and done. In the meantime, CIPPEC is working to change the structure of incentives for presidential debates by mobilizing stakeholders who will raise policy issues to the forefront of the political discussion. In this respect, the media plays a crucial role. CIPPEC's vision is to close this project with a public debate between the top presidential candidates. That is no dream to sleep on.