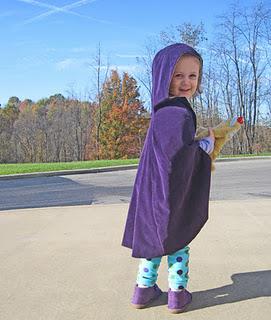 I made this cape from the new Oliver + S Little Things to Sew a few weeks ago but my little one has been refusing to try it on. I bought gorgeous eggplant fine wale corduroy from JoAnn's and lined it with a Kona solid (kinda between mushroom and chartreuse). I wanted a linen look without the hassle of linen (and thought the Kona was on sale and it wasn't!).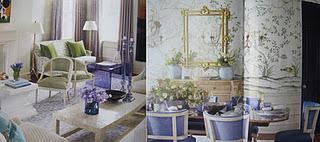 As soon as I got the fabric home, my House Beautiful magazine arrived with a cover story in these same colors. I feel with the times.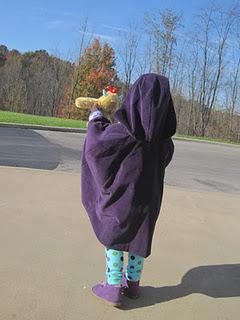 Since Z is inbetween the two cape sizes from the book, I went with the larger one. It actually fits me (I'm 5'2") rather well so she'll get years of wear out of it. As you can see, it fits her fine but it's more Lord of the Rings than Little Red Riding Hood.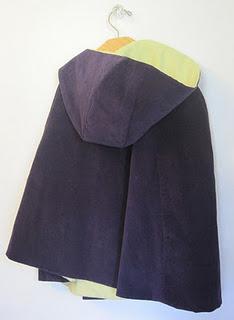 The pattern calls for 1/2" seam allowances and I hate that. It is so annoying to have all that extra fabric in there. But I had already cut the thing out before I read that so it was too late to adjust. 1cm or 3/8" is the only acceptable garment seam allowance in the world. And that's final. Doll clothes, quilting, sure, that's a different game but what a waste of fabric and what a waste of time when a pattern calls for massive seam allowances and then has you go and cut the extra off. Hello, who has this kind of time?
I also made sure to do a good clean job of stitching so this would be reversible. I sewed a button on both the inside and out but did it too tightly so I can't secure the loop. I need to fix that.