I was very kindly sent a pair of Amora Oliveira shoes, delicate and romantic, Amora is a shoe of sheer beauty. With cream satin 3¾" heels, shimmering diamante straps and a twinkling toe design, this is the stunning finishing touch that lends effortless elegance as a wedding shoe or even with jeans.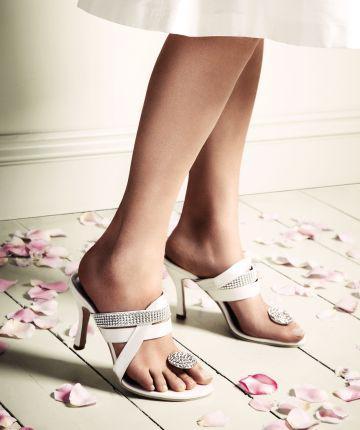 The shoes are simply beautiful, the toe design glitters effortlessly under the light, these are a real head turner.
The perfect pair of shoes to team with a dress for that special occasion or everyday wear with jeans.
The sheer quality can be seen just by the box alone that the shoes arrive in, for those mums who like a little luxury in their life, I strongly advise you take a look, you will not be disappointed.
Maria Oliveira has had a lifelong passion for shoes, and was inspired to design and launch her own collection during a trip to see family in Sri Lanka. It was, therefore, natural that she should want to have her first designer shoes collection made in Sri Lanka. The challenge was to find a partner who shared her passion for stunning designer footwear and exceptional quality, and able to combine this with ethical work practices and stringent safety controls.
After many meetings around Sri Lanka, we finally identified our business partners and after a year of close co-operation, they produced our first collection of 'toe post' women's shoes. All are hand assembled by a team of skilled and experienced workers and, before being shipped to the UK, our shoes are fully tested to ensure they meet our quality and safety standards.
To see more of the range visit the Oliveira website.