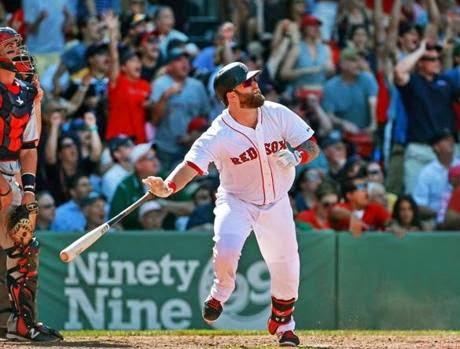 The Red Sox swept the Minnesota Twins at Fenway this week, and by scores of 1-0, 2-1 and 2-1. Can't remember the last time the Sox scored five runs in three games at Fenway and won them all.
John Lackey was absolutely brilliant in going the first nine innings yesterday, allowing just three hits and walked just one. He deserved a win, and got a no-decision for his efforts.
That's because the Sox offense didn't show up until the 10th inning. Daniel Nava's double in the 5th was the first Red Sox baserunner, after Kyle Gibson retired the first 14 hitters. (The way the Sox offense has been so anemic, he might as well have been BOB Gibson.)
Chris Parmlee hit a Koji Uehara splitter into the bullpen with two outs in the 10th for the first run of the game. (And he had 3 of the 4 Minnesota hits.) Shocking, to say the least.
It looked like another game the Red Sox would have superb pitching, and lose again.
With one out in the bottom of the tenth, David Ortiz hit a Casey Fien pitch straight down the right field line and into the seats to tie the game at 1. (Papi did him self no favors by whining after the game about a hard hit ball to first that Joe Mauer knocked down and was charged with an error. He thought it should have been ruled a hit, as did I. He reminds me of Ted Williams in that every little slight is some declaration of war.)
Mike Napoli then hit a blast into the bleachers to give the Red Sox a 2-1 win. It was the first time in club history that they have swept a three-game series by scoring five runs or fewer.
I can't say I was ecstatic about this win. The offense continues to struggle big time, and it was the strength of the pitching that saved the team's bacon. They now head out west to begin an important 10-game road trip, against Oakland, Seattle and New York. The A's and Mariners currently have the two best team ERAs in the AL. So this will be difficult test, one in which the Sox need to score more runs. I would expect no less than 5 wins on this trip.