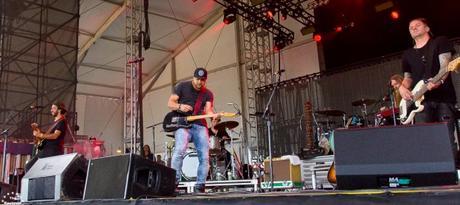 In August 2012, Tebey won the Boots & Hearts Emerging Artist Showcase contest - and in 2016 he was back in a main event slot during the Coors Banquet Kick Off Party!
As part of the 5 act Thursday show, Tebey took over the Front Porch stage at B&H and did everything he needed to do to get the early festival crowd into a groove and into the music. After his intro music (In The Air Tonight) the Peterborough native was welcomed to the stage with a big cheer and the band kicked off the set with Jealous Of The Sun. Right away it was easy to see that the fans were all in. The singing and dancing were nearly instantaneous - and the energy level under the tent and beyond was rising.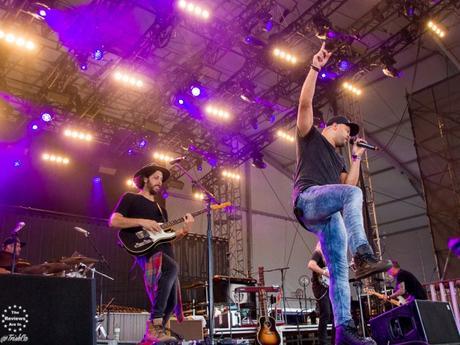 Before the show we had a chance to hangout with Tebey for a few minutes out in the woods and we asked him about the set and he told us that he was excited to be back after a quick surprise walk on during Emerson Drive's set in 2015 and winning that Emerging Artist Showcase at Boots and Hearts year 1.
He also told us that Old School will be the next single from his new EP of the same name, so it made sense that the crew was filming footage for that music video during the set. The song isn't without controversy with its marijuana mention, but Tebey told us and the crowd, that he felt strongly about it when he brought it to the label, and that he's happy we're all getting to hear it. Tebey also took a second to shout out Sugar Ray as an inspiration for the song.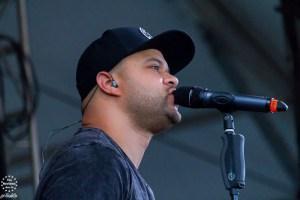 On stage Tebey was on fire. His own hits, like When The Buzz Wears Off, Wake Me Up, Now I Do, and Somewhere In The Country earned cheers and love from the assembled crowd. And when he added some covers (Lot Of Leavin' Left To Do, Fast Cars And Freedom, Friends In Low Places, I Want It That Way, She Will Be Loved) the volume was louder than we could have expected. But the loudest reaction didn't come from Garth Brooks' country anthem... no, it came from thousands of women singing at the top of their lungs when Tebey paid tribute to the Backstreet Boys!
With great energy on stage, tight musicianship from the entire band, a crowd that was ready, willing, and able to party, and a venue that brought it all together - Tebey had the perfect recipe for a big, fun set on Thursday, and he delivered.
We can't wait to see the Old School video, and to see Tebey live again soon!