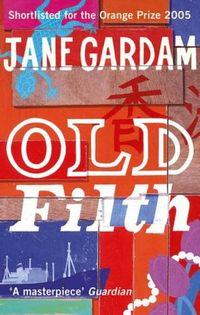 I cannot believe that until a few days ago I had never heard of, let alone read, Jane Gardam. Considering that she has published twenty five novels, won the Whitbread twice, and been nominated for the Booker and Orange prizes, you'd think she might have come to my attention before now. Still, better late than never. 
I was lucky enough to get some books for my birthday last week, and this was one of them. And oh my goodness how I did enjoy it. Old Filth is the story of Sir Edward Feathers, who, as the novel begins, we meet as an ancient and distinguished barrister, living in comfortable retirement in Dorset. His curious nickname originates from the phrase Failed In London, Try Hong Kong, alluding to the fact that his hugely successful practice was carried on in the Far East. Those of the members of the Inner Temple who remember him generally think he must have had a soft and easy life, but the opposite is actually true.
Eddie Feathers was born in Malaya. His mother died shortly after his birth, and his father, unable to cope,  passed him over to the local community, so that until the age of four he spoke no English and lived happily in a small village by a river. Rescued from there by Auntie May, a missionary, he was transported to England with a boatload of other Raj orphans, and fostered, together with two girl cousins, with a monstrous and cruel widow on a remote farm in Wales. From there he went to prep school, where he met Pat Ingoldby, whose family more or less adopted him, and who stayed with him through public school. Then came the war, bringing with it tragedy and separation, extraordinary journeys, near death from various dreadful tropical diseases, and finally a strange and peaceful interlude as part of a team of soldiers protecting the dowager Queen Mary. Then came Oxford and the Bar, and eventually -- a result of a bizarre friendship made on a ship headed for Singapore -- his triumphant career as an international lawyer.
If this story -- and the summary hardly does it justice -- were to be told chronologically, it would be interesting enough. But Jane Gardam does better than that. The novel is filtered mainly through the memories of Old Filth, who, at the beginning, loses his beloved wife Betty. This is, I suppose, the catalyst for the memories that keep flooding back, the renewed contacts with people from the past, the journeys around England and, finally, back to Malaya. Slowly more and more secrets are revealed, though it is not until almost at the end that we learn the truth of the most terrible of them, which has been hinted at throughout, and which finally turns out not to have been quite as terrible as he has always believed.
The revelations of the plot, the wonderful and extraordinary characters who appear and disappear and reappear, and the beautiful prose, make this one of the most brilliant novels I have read in many a long year. But perhaps above all, there is the wonderfully sensitive portrayal of Old Filth himself. Damaged irrevocably, as he himself recognises, by the pains and losses of his childhood, he feels himself to be incapable of love, though in fact his schooldays friendship with Pat and his tremendous tenderness for, and dependence on Betty can hardly be called anything else, The picture of him in old age -- spotlessly clean, upright, a relic from a long distant past -- is incredibly moving. But this is also a novel full of wit and delight. If you haven't read it, please do!
I've now started the second in what proves to be a trilogy, The Man in the Wooden Hat. And to my great joy I see that the third volume, Last Friends, came out a few months ago. So more pleasures in store -- I can hardly wait!