When you get called to a work site, sometimes you just don't know what you'll end up seeing. Sometimes everything is normal, sometimes you smell marijuana, sometimes you get stiffed, sometimes you find a stiff….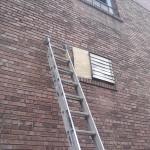 Boarding up windows on an old building
Recently I was called to board up some windows on this old building. The building was in a particularly bad part of town and so I did some preparations to secure my truck and tools for going there (last time I heard gunshots in that part of town and couldn't get out fast enough).
But none of that dramatic stuff would happen this time.
I get to the building, check out the exterior and the windows that need to be boarded up, and then I went to check out the building interior.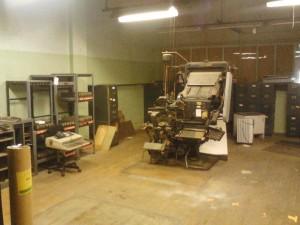 Old printing factory on the inside
Man, it was cool as hell! It turned out to be a printing factory that stopped printing in the 1950s. It looks like they just turned the machines off and walked away. Never came back. The building looks exactly like it did in the 1950s, filled with all these old machines.
Being in the neighborhood it's in, it's hard to believe that no one stole the old machines, but then I guess you never know what people will or won't do.
So I boarded up the windows as requested, locked it up, and now it'll stand for who knows how many more years, just like it did from the 1950s.