Evening traders,
Most of you should know by now that Olam is making headlines with Muddy Waters. As bystanders, we do not know who is right or wrong and what is going to happen to Olam in the weeks or months ahead. But, I am happy to see Olam's stock coming down since I am bearish on Olam's stock based on the chart. Today's trading sees traders trying to fill the gap made two days ago. If Olam comes out of this fiasco cleanly, Olam's stock price may just fly up. If Muddy Waters prevails with their case against Olam, then I think Olam's stock is going to drop like a stone. I am not too sure about the specifics of the "battle", but whenever a company – whether big or small – gets into trouble regarding their financial books, the outcome is usually undesirable (to the shareholders, at least). I am sure we all have heard enough stories of S-chips and huge corporations in the States that have found themselves in hot water because of accounting-related issues.
Anyways, I am not here to comment on the issue since it can be a sensitive thing with no official reports out yet. I attach a chart below to remind us why I am – and have been – bearish on Olam.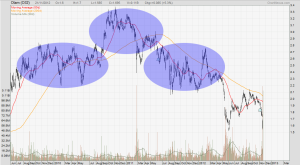 All analyses, recommendations, discussions and other information herein are published for general information. Readers should not rely solely on the information published on this blog and should seek independent financial advice prior to making any investment decision. The publisher accepts no liability for any loss whatsoever arising from any use of the information published herein.