Yuck!
The drinking water of Colcord, a rural town of 800 about 75 miles east of Tulsa, is infested with blood worms — small, red insect larvae of midges (small flies) about a quarter to a half inch in length.
Below is a screenshot I took from a CNN video. The yellow arrows are pointing to the blood worms: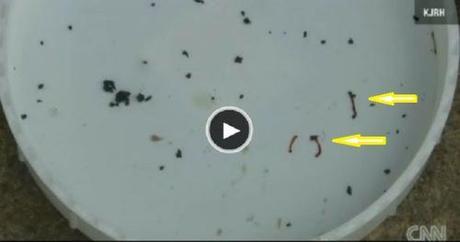 Jethro Mullen
reports
for CNN, Aug. 29, 2013, that authorities are warning Colcord's residents not to drink, cook with or brush their teeth with the worm-infested tap water.
There are no known health effects from the worms, but local officials aren't taking any chances, hand-delivering letters to residents warning them to stick to bottled water for the time being.
Schools in the area have been closed since Tuesday as officials try to figure out where the bright-red creatures came from and how long it will take to get rid of them.
The Oklahoma Department of Environmental Quality (DEQ) is investigating the cause of the outbreak but isn't yet able to say when the water will be safe to drink again, said spokeswoman Erin Hatfield.
Blood worms, also known as red worms, are found in the southeastern United States, but not usually in Oklahoma. The environmental quality department has only recorded one other such infestation in the state: in the town of Drumright, 108 miles away, more than 20 years ago.
Colcord's water commissioner, Cody Gibby, calls the worms "disgusting" and is scratching his head over how the worms got through the town's 6-foot thick water filters: "It's not just a little 6-inch filter, it's 6 foot of coal and sand mixed together that not even a hair can get through. And these worms are getting through it and getting into our distribution water."
~Eowyn