Okabashi :  is a family owned business that has focused on designing and manufacturing extremely comfortable shoes for more than 29 years. Since 1984, we have set ourselves apart from the other major footwear manufacturers by producing a shoe that is much more than a shoe. Besides being made in the USA, Okabashi shoes are 100% recyclable, designed with superior foot support and a massaging insole, anti-microbial, dishwasher safe, and backed by a 2-year guarantee. We believe in our product and stand behind it 100%. As you discover our product, you'll quickly see why our shoes are good for you and for the planet. "Read More".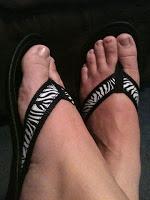 I was giving the opportunity to review any pair of Okabashi I wanted, and it was a really hard choice. I took about an hour scrolling through, clicking, scrolling, there was a ton of shoes that I really liked. And then there they were. The pair I couldn't live without. A pair I fell in-love with. The Indigo. I am a huge animal print lover. If you can't tell by my blog. *Grin*. I love unique shoes, and I'm a flip-flop, sandal fanatic. I would wear flip-flops and sandals in the winter in the snow, if I didn't think I would get

Gangrene. I love the bold zebra print detail straps. I also love the cloth toe detail. I'm not a big fan of plastic toe detailing on the toes, they wreck havoc on the toes. The shoes are also super easy to clean. I was able to throw them in the sink and spray them off and let them dry. Easy Peasy.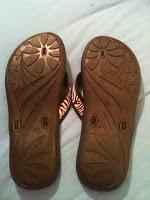 One of the details of the shoes I admire is the non-slip details. As shown in the photo, the shoes have a gritted flower and swirl detail that keeps my feet grounded. The inside of the shoe has a ribbed detail at the bridge and toe area. The kitchen floor where I'm currently staying is horrible when it comes to some of my flip-flops and sandals. I always slip and slide when walking through. One of my Husband and I's favorite thing to do on the weekends is to eat at one of our favorite restaurants and they are also

horrible when it comes to my shoes. I'm always worried that I'm going to slip and break my neck. I was not worried about slipping while wearing these shoes. I felt grounded like I was walking on carpet. I was worried that these shoes are going to be uncomfortable. I was clearly wrong. I was able to wear these all day. Even after spending 3 hours inside walmart. My feet always kill me after shopping that long. But I was able to go shopping, and still on the go.
I have my eyes on a couple more pairs of Okabashi shoes. Such as the Indigo in Black/Patent, Indigo in Brown/Pink Flora, and Pacific in aqua.


♥ These are my own opinion(s), I was not paid for my opinion(s).