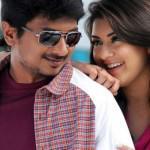 Story:
Srinivas (Udhayanidhi Stalin) loves Meera (Hansika). Meera doesn't love Srinivas. They become friends then later they break up. Finally how they come together again is the basic story of the film. All through this story Bangarraju (Santhanam) acts as catalyst.
Performances:
Udhayanidhi Stalin is unbearable and has absolutely no expressions on his face. He can't dance, he can't act. Period.
Santhanam is the hero of the film. Whenever he is present he steals the show. His dubbing given by Sunil is a major asset.
Hansika despite being a little over weight looks good. She is alright in acting department too and is the only reason apart from Santhanam to watch the film.
Saranya Mohan as mother acts as required i.e. to overact.
Positives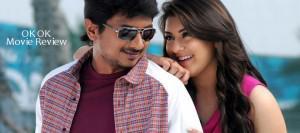 Santhanam comedy
Harris Jayaraj music
Cool cinematography

Negatives
Main lead
His attempt at acting
His presenceThe film drags after a point and added to that the main lead's repeated attempt to act makes one restless.

Analysis:
The film has a very thin plot and rests solely on the comedy and music. The director succeeds in both these to a large extent, now if only he could have got a better main lead.

Direction by M Rajesh is good in that he narrates routine story with freshness. The humor is sharp and gets laughs aplenty. But at times it goes overboard and appears silly. Also after the initial meeting and eventual break up the film drags despite having some hilarious scenes.

Music and background score by Harris Jayaraj is good. Editing is alright. Choreographers try their best to dance or use some props to hide the main lead. Cinematography by Balasubrahmaniam is very good and gives the film a very fresh look.

Bottom-line:
Remember Ullasamga Utsahamga with Yasho Sagar?

Rating: 2.5/5


Rating: 2.0/
5
(1 vote cast)