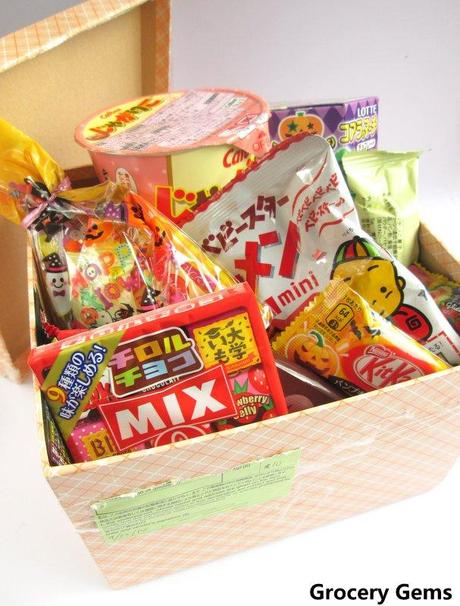 Oishi Fun is a surprise subscription based candy & snack box, that ships direct from Tokyo, Japan. Each month Oishi Fun send out a box crammed full of different treats and goodies, often with limited edition and seasonal products included too. The boxes cost $25 (around £15) and unlike some other subscription boxes, you don't need to sign up for a set number of months - the subscription can be cancelled at any time. More details: http://www.oishifun.com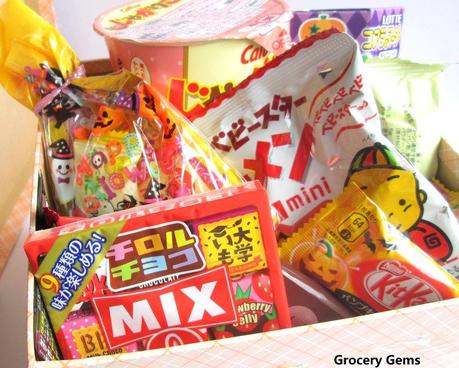 It was exciting to be asked to review the October Oishi Fun box, and once it arrived, I was staggered by just how many items were crammed into the medium sized box (it was like the Tardis in there!), including some awesome Halloween and kawaii items. There were plenty of full sized products along with lots of individual sweets and snacks. I've already decided to sign up for a few more boxes because the selection was just amazing and I can't resist the lure of these limited edition items. Check out the photos below for all the items. A little warning here - there are a LOT of photos!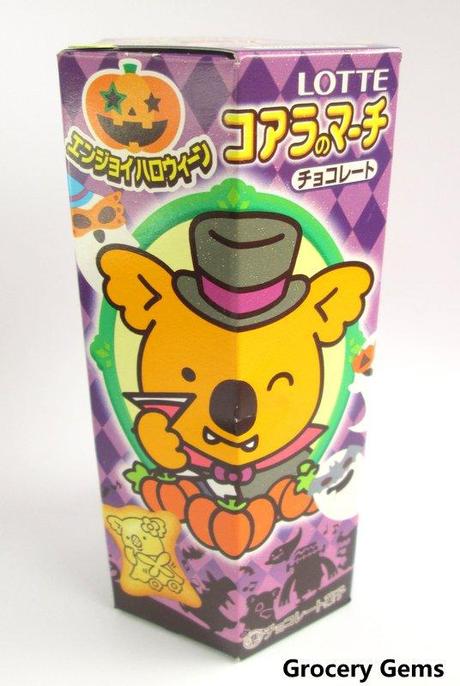 Lotte Koala Halloween Pack: I'm going to jump straight in with the seasonal items that I was delighted to find included in the box. Lotte Koala are little biscuits with a chocolate fillings. This limited Halloween pack is not just cute packaging as the little biscuits are also printed with Halloween images. I've been eyeing this up on Facebook recently so I was thrilled to find it in the Oishi Fun box. I'll have a review up soon!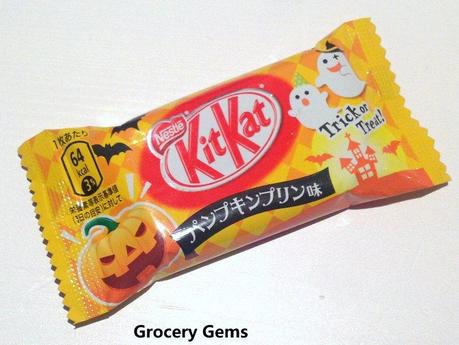 Kit Kat Pumpkin Pudding Bake-able: These look like the same Pumpkin Pudding flavor that I reviewed last year HERE but this time they are also bake-able. Take a look at my review of these baked Kit Kat HERE and you'll get the idea! As such a limited and coveted item (these sold out really fast last year), I was very surprised to see them included in the Oishi Fun box! Having such limited edition items really puts the Oishi Fun box ahead of other subscription boxes in my opinion.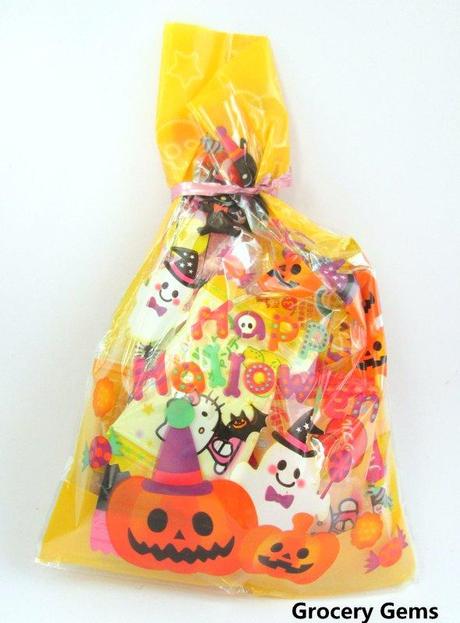 Halloween Treat Bag: There were also more sweets and chocolates included in a little cello treat bag put together by the lovely people at Oishi Fun. I loved the Halloween cello bag used  here - it's so cute.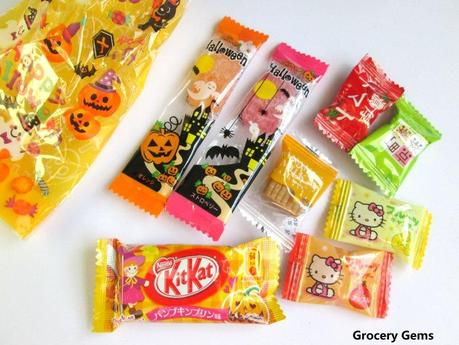 Inside were even more Japanese treats. I couldn't quite believe just how many were in this little bag, and amazingly there was another Kit Kat Pumpkin Pudding in here! There were also two Halloween themed lollipops (these are so cute!), some Hello Kitty sweets, Banana Milk Caramel and other candies.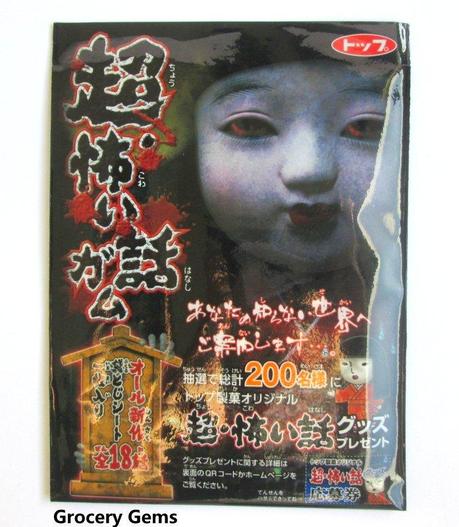 A very scary looking gum. Okay, so here's the spooky thing - this gum has gone missing. I know it was in the box earlier today, but when I went back to write this review... it's gone. I have a feeling I'll find it on top of my pillow one day. It's seriously creepy looking but perfect for Halloween. Once I find it I'll update with more details!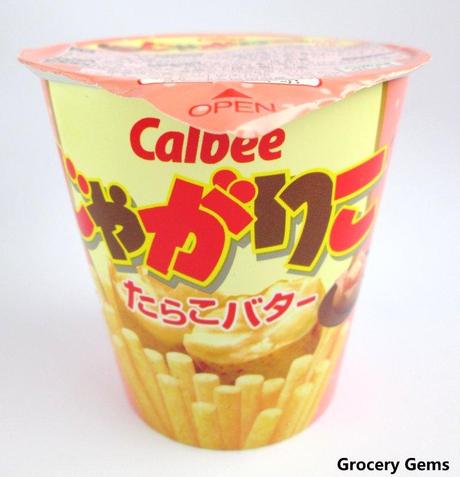 Calbee Jagarico Crunchy Potato Sticks
: These crunchy Jagarico potato sticks are so tasty, they have a deliciously buttery and salty flavor.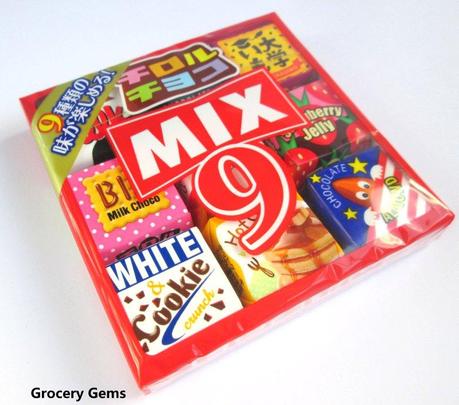 Tirol Chocolate Mix 9 Pack: This is an adorable box of nine different chocolate each with a unique flavour, including; Strawberry Jelly, Hot Cake, Coffee Caramel and White Cookie Crunch. I was so surprised to find this is in a subscription box, it's just fantastic!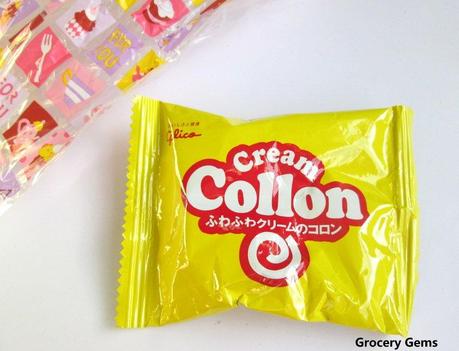 Glico Collon: These were also wrapped in a cello gift bag (which you can see in the top left corner of the above pic) - it was lovely to find these individually wrapped items in the Oishi Fun box.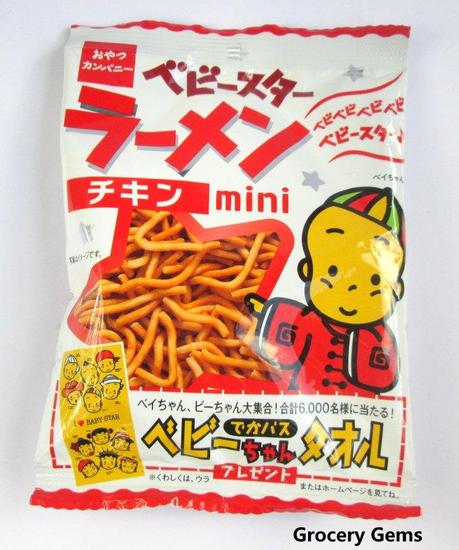 Baby Star Ramen Chips: These are a classic Japanese snack that have been around for many years. They're chicken flavoured dry ramen noodle chips - I'm looking forward to trying them.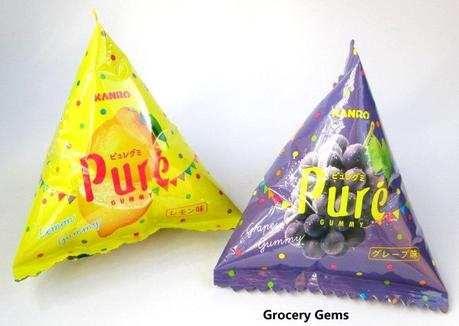 Kanro Puré Fruit Gummy
:
I've been wanting to try this range for quite a while. There were two different flavours included in the box; Lemon and Grape.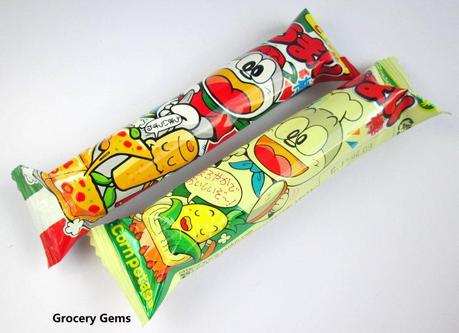 Umaibo Pizza and Umaibo Corn Potage: Umaibo snacks are really tasty corn snacks that come in lots of different flavours (see my previous review HERE).  I always make sure to include a few different varieties whenever I order from my favorite online Japanese stores. However, I've never tried the Corn Potage flavor before so I was pleased to find these in the Oishi Fun box.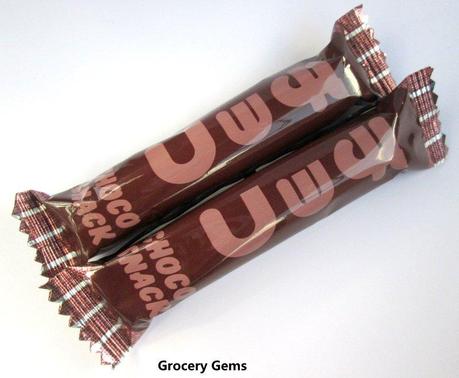 Riska Choco Snack: 
These are chocolate biscuits in a long tube shape. I haven't tried these yet but they look like a sweet version of the above Umaibo snacks! :)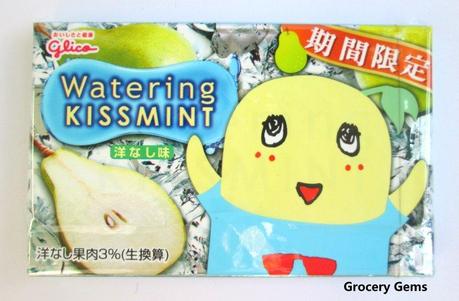 Glico Watering Kiss Mint: This is an interestingly named gum! Going by the packaging this one is pear flavoured but if you know more about this product then feel free to leave a comment below!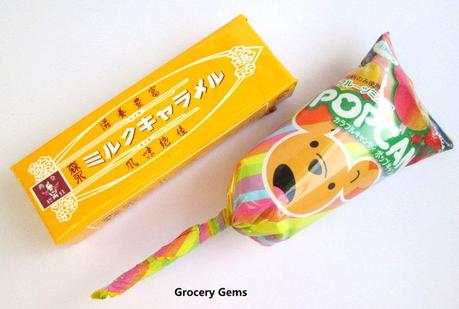 Morinaga Milk Caramels & a Popcan Disney Lollipop: I've reviewed the Morinaga Milk Caramels before HERE - they're deliciously creamy, soft caramels. The lollipop is so cute because it's shaped with two ears like Mickey Mouse. It looks like something that would be quite expensive to buy.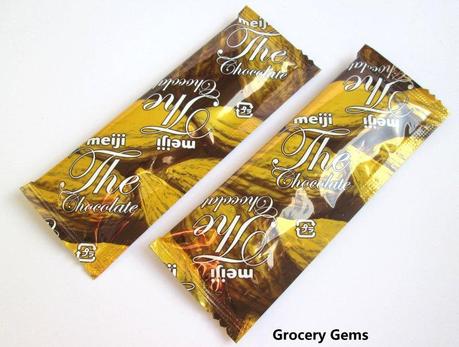 Meiji The Chocolate: Two individually wrapped Meiji chocolates.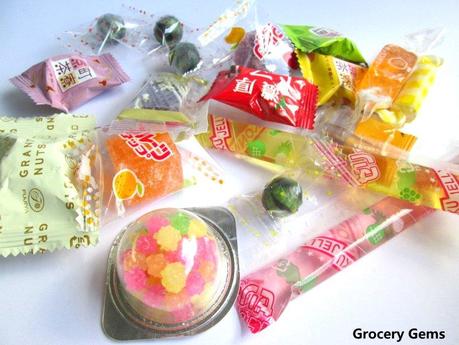 Even more Japanese candy!: And these are the rest of the smaller candies that were in the box. There are several different jelly based sweets, mini chocolates from Lotte and Meiji, a Fujiya grand nut and just too many other sweets to mention. There are actually a few chocolates missing from the picture above which gives you an idea how much was in the box!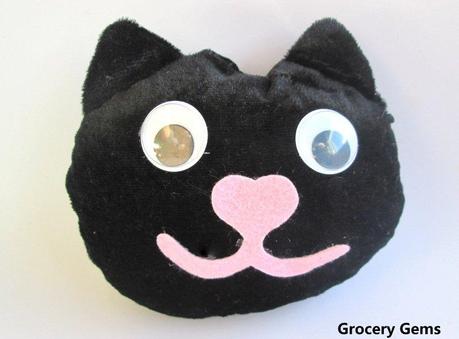 There was even this cute little kawaii cat in the bottom of the box (I seriously don't know how Oishi Fun managed to fit everything in). This cuddly cat is actually a small bag as there is a long strap that unfolds from the back and it has a little pouch too. Just adorable!
Overall, I'm extremely impressed with all the items in the Oishi Fun box. Not only is it stuffed full of exciting products, but it also has the feel of a gift that has been packaged up and sent by a friend. This is not something I've come across with any other subscription box before and I really can't wait to see what goodies the next Oishi Fun box will include! On the basis of this October box, I think the Oishi Fun box would make a fantastic gift too. 
Subscription Box Details: Oishi Fun
Rating: 10 out of 10 - I'm signing up!Price: $25.00 each month (just over £15).Delivery:  Free shipping. 

Parcels are sent out on 15th of each month.

More details: http://www.oishifun.com/faq