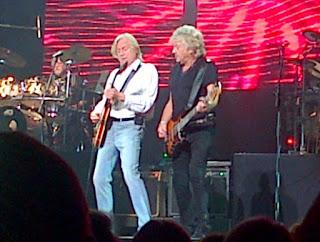 Oh, what a night, what a theme! I've many to choose from, here's a few.
The first thing to spring to mind is all the Moody Blues concerts I've been to. I tried to count it up but it's impossible.On every UK tour for nearly twenty years, I have attended two or three concerts at least, out of a probable eight, depending on location. We've wrapped holidays and mini-breaks around concert dates. I longed to see them at the Royal Albert Hall, where I knew the acoustics would be perfect for their music. I was ecstatic to eventually make it in 2006 and went to two of their three concerts. The experience was everything I'd hoped for. On the second night, my daughter and I managed to place ourselves in front of the stage, with many others dancing and singing through the encore. It was worth having to stay in the grottiest of shabby back street hotels. We live and learn. A couple of years later we stayed in a lovely hotel in Blackheath when we went to see the Moodies at the 02. Not my favorite venue, but the hotel was great.
I like football. I grew up in a family devoted to Manchester United, so it was bound to rub off. My maternal grandfather, a licensee in Sale when I was small, had mates connected to the club. I remember the sadness in the family when the Munich air crash happened, though I was too young to fully understand. Years later we took our children on a tour of MUFC and I spent ages in the museum learning about the Busby Babes. In 2006 there was an opportunity to go to a match. Burton Albion were coming to Old Trafford for a mid-week, evening FA cup replay. Tickets went on open sale. I can't remember how much it cost for our family of four to have the best seats possible, on the centre-line above the dugout, and pre-booked pre-paid disabled parking, but I know it was a very expensive family night out. It was worth every penny. Our son, who was about fifteen, had the time of his life. Our daughter amused everyone around us by asking me if it was 'live'. It was a 5-0 win to United. It took hours to get out of the car park and start our journey home. A very late school night, but a great time was had by us all. Sometimes you need a treat.
Going to see John Cooper Clarke was a treat indeed. I've loved his poetry since he first came on the scene as a 'punk poet', so clever, so observant, telling it like it is with no words wasted. I bought tickets as soon as they went on sale at the Kendal Brewery Arts Centre. We had pizza in the Vats Bar then took our front row seats in the theater. The first half of the event was my introduction to Manchester poet, Mike Garry, who held me spellbound and spoke my language, quite literally as he comes from the same part of Manchester as I do. Afterwards, I bought a copy of his book, which he signed for me as we chatted. John Cooper Clarke was amazing and kept going and going, despite not being fully recovered from a recent illness. It was just brilliant to hear the poems I knew and loved so well being performed live by the poet. Oh, what a night!    
Oh, what a night at the Royal Albert Hall
On a wonderful Moody Blues tour,
When we danced and sang, right up close to the stage,
Joining in with their final encore.  
Oh, what a night at Old Trafford Cricket Ground,
Simply Red in July, '92.
'Holding Back the Years' always has me in tears.
Dreams of the future were coming true.  
Oh, what a night at Old Trafford Football Ground,
Our fam'ly supporting United.
Fortunes for tickets, but the thrill of the match
And victory made us delighted.  
Oh, what a night in Kendal, John Cooper Clarke,
The Bard of Salford, great to be heard,
And Manchester's Mike Garry blew me away
As I hung on to his every word.  
PMW 2019  
Thanks for reading, Pam x 
Email This
BlogThis!
Share to Twitter
Share to Facebook
Reactions: