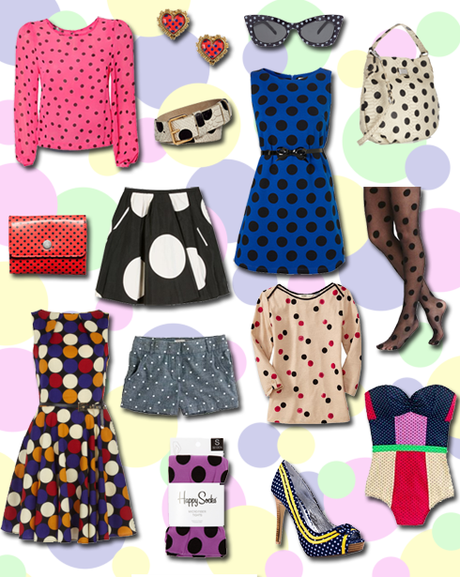 Do you feel like you were just hit by a polka dot explosion? Yes?
Welcome to my brain.
All I think about since I saw pics of the
Kate Spade Fall 2012 presentation
are polka dots. (I'm also 99.9 percent sure I'm chopping my fringe a la those gorgeous models but that's for a different post).
I'm currently obsessed with all things dots -- big dots, little dots, teeny-tiny dots -- and here are just a few items I'm lusting after:
Blouse: Ribbon UK
Earrings: Betsey Johnson ($30)
Sunglasses: Asos ($21.49) 
Bag: Marc by Marc Jacobs ($300) This may be my favorite item on the list. Or ever.
Blue dress: TopShop UK
Belt: Marc by Marc Jacobs ($150)
Skirt: Acne ($549) Yes, I realize that's crazy.
Wallet: Marni ($385) 
Multi-colored dress: Dorothy Perkins ($89)
Shorts: J.Crew ($59.90)
Long-sleeved shirt: Old Navy ($17.94)
Black tights: Express ($19.90)
Bathing suit: Madewell ($220) Not sure how this would look in real life, but it's cool nevertheless.
Heels: Not Rated ($44.99)
Purple tights: Asos ($35.81)
What do you guys think about polka dots? And heavy bangs?