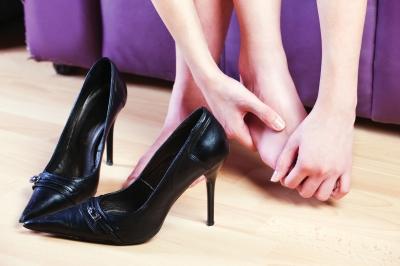 After a long day, there's very little that feels better than taking off your shoes.  However, after that first rush of "Ahhh.  No shoes!" passes, you are back to aching feet.  When your feet are tired and hurt, the rest of your body, particularly your knees, hips, and back, will soon follow.
Hours on your feet, shoes that are too tight or poorly fitting, heels that are too high, and a host of other reasons can make your feet feel in desperate need of some TLC and extra attention.  While a trip to the spa for a pedicure is a luxury that most women will treat themselves to once in a while, it's impractical, and expensive, to rely on pedicures to relieve day-to-day foot stress.  There are, however, many simple things that can be done at home to make your feet feel relaxed, refreshed, and definitely pampered.
Peppermint foot lotion/scrub.  Peppermint is one of the best scented lotions to use on your feet.  It is cooling and refreshing in addition to possessing a wonderfully relaxing scent.  Massage the lotion into your feet, paying particular attention to the instep and toes.  For extra relaxation, massage the lotion into your ankles and calves.
Elevation.  Lie on the floor and put your feet up on the edge of the sofa or the bed for at least twenty minutes.  The elevation will help to reduce swelling and release tension held in your joints.  Slowly point and flex your feet, rotate your ankles, scrunch and flex your toes – all while elevated will make your feet feel ready to go again.
Barefoot is best.  Most pediatricians will tell new parents that when babies are learning to walk, they need to wear rubber-soled shoes or go barefoot.  The same holds true for adults.  When walking without shoes, the foot is in a more natural position with better weight distribution. While walking barefoot feels good, you need to be sure that you are doing so safely by watching out for hazards or dangers particularly outdoors.
Warm water.  There are many different types of foot baths on the market; however, simply soaking your feet in warm water will produce the same effect.  True, the bubbling water does feel good, it is not necessary to get the benefits of warm water on your feet.  For added relaxation, add a few drops of essential oil of peppermint or Epsom salts. Soak for about twenty minutes then dry your feet thoroughly, preferably with a fluffy towel that had been warmed in the dryer.
Massage.  Even if you can't convince someone to give you a foot massage, you can do one for yourself that will be every bit as relaxing.  There are several good instructional videos online that will guide you to giving the perfect foot massage.  As you are massaging, be aware of your whole body.  The foot is used in acupressure; therefore, there are points that correspond with other parts of the body.  By massaging the points, you can activate release of pain in those other areas of the body. You can find any good diagrams online that show the location of the points and the corresponding area of the body.
Your feet provide you with support, movement, and strength.  Yet, even the strongest body parts need regular tender care.  By pampering your feet and focusing on relaxing the muscles and joints, you will enjoy the benefits of relaxation and reward your feet for a job well done!
Casey Hamilton is an avid blogger and contributor to MiToe.com, a leading hammertoe correction product website from Wright Medical.