So I didn't mean to take the week off from blogging. I've actually had a few post ideas that I wanted to do and everything. But this week was a whirlwind between working and starting classes. I still haven't quite found my rhythm with taking classes from 6-10 two nights a week, but I'll get the hang of it soon I'm sure! Plus my Internet connection has been acting like a fool. That didn't help either.
I do want to link up with Lauren for high Five for Friday though, because I think it's important to reflect on our days and pay attention to the little blessings that come our way. So here are 5 highlights from my week: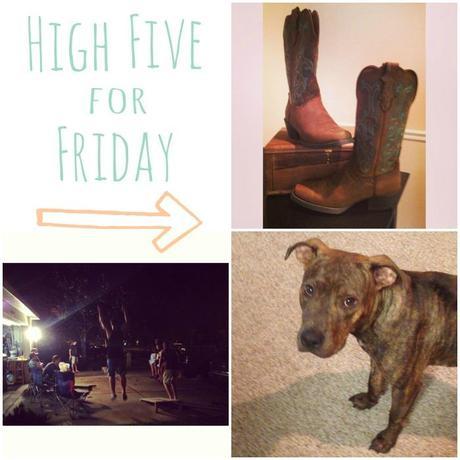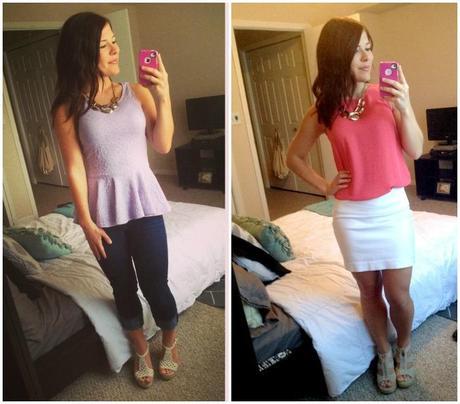 one. Adam bought me some cute Justin boots that I can't wait to wear tonight for the Blake Shelton concert..woo!
two. Soaking in as many summer night cookouts with friends as I can before things gets crazy with school. I appreciate all of them and the time that we get to spend together (I'm talking to you Crissy).
three. My handsome pup! His two new favorite things this week are playing (aka running away terrified) from my yoga ball & eating ice cubes.
four. I wore my peplum top this week for the first time and I LOVE it! I wasn't so sure how it would look with me being so short, but I think it works! Thanks for the inspiration, Meg ;) Also...now I want to buy tons & tons of statement necklaces. Any recommendations for cheap online boutiques?!
five. This is the outfit I wore yesterday when I went out to find an elementary school to do my first set of field observation hours at...guess what?! The first school I went to said yes and bonus: it's the elementary school that I went to when I was a kid! I can't tell y'all how excited I am :)
Happy LONG weekend, loves...enjoy it!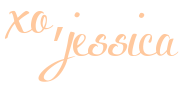 lovelylittlethingsblog.com